"You've Never Been With a Woman That Says I Have More Horsepower Than You" – Tony Stewart Tries to Bite His Tongue as He Reveals the Difference in His and His Wife's Car
Published 03/13/2023, 5:09 PM EDT

Follow Us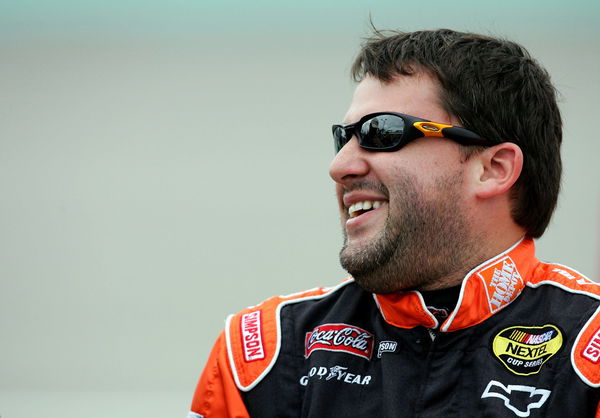 Ever wondered what would it be like to drive an 11000 horsepower car? This is how the racers of the National Hot Rod Association (NHRA) operate. These are drag racing cars that can catch speeds greater than 300 mph in a matter of a couple of seconds. In a sport like this, one has to have proper fitness levels to endure the G-Force it produces. And it looks like Tony Stewart loves these kinds of races.
Tony is getting ready to race in Top Alcohol Dragster while his wife Leah Pruett is an established name in drag racing, and she drives an NHRA Top Fuel Dragster for Tony Stewart Racing. In a recent interview, Tony went on to describe how his car differs from his wife's car.
What is the difference between their cars?
ADVERTISEMENT
Article continues below this ad
In an episode of "Bubba the Love Sponge Show," while discussing Tony's racing career and his potential return to NASCAR, they touched upon the difference between Tony's and Leah's drag cars. Co-host Brian believed that the fuel is the only point where they differ, but that is not the case.
Tony explained that the difference is actually inside the car, the engine it uses, and the fuel it burns. Tony revealed that his car has 6000 horsepower less than Leah's car, exclaiming, "It's about 6000 horsepower difference!"
To this, the co-host teased Tony, saying, "You've never been with a woman that says I have more horsepower than you."
Leah's car has a whopping 11000 hp compared to Tony's 5000 hp car. That's a massive difference.
After competing in around 11 races the previous year, Tony's hunger for drag racing has increased, and he will be seen as a full-season NHRA Top Alcohol dragster this year. Though many who are not familiar with the sport might be wondering how can a car have 11000 hp.
ADVERTISEMENT
Article continues below this ad
What is an NHRA Top Alcohol dragster?
NHRA is one of the largest auto racing organizations. Just like NASCAR, NHRA has a loyal fan following that is committed to the sport. The Top Alcohol dragster uses a supercharged methanol-burning engine and produces around 4000 horsepower. A category above that is the Top Fuel dragster, which can produce up horsepower in the range of 7000 to 10000, even going as high as 11000.
Watch this Story: Fans react as "Embarrassing AF" statistic sees NASCAR's head down in shame
ADVERTISEMENT
Article continues below this ad
Tony's growing love for drag racing became evident with his announcement that he will be a full-season dragster this season. It is possible that his announcement will attract more people to the sport.
Edited By: Nischal Kandpal