WATCH: Kansas City Fan Clint Bowyer Wears Tampa Bay NFL Jersey After Losing Bet with NASCAR Driver Aric Almirola
Published 02/28/2021, 11:00 PM EST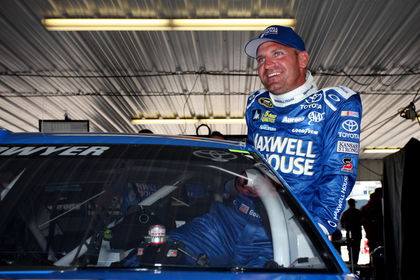 ---
---
Back in early February, the Tampa Bay Buccaneers took on the Kansas City Chiefs in the Super Bowl. Ahead of that game, Aric Almirola and Clint Bowyer made a bet against each other that their team would win. Almirola is a Buccaneers supports, while Bowyer is a staunch Chiefs fan.
ADVERTISEMENT
Article continues below this ad
In the end, the Buccaneers won, ensuring that Almirola won the bet. Apparently, the losing driver had to wear the winning team's jersey for an interview. Suffice to say, an embarrassed Clint Bowyer turned up at the Daytona International Speedway in a Bucs jersey.
ADVERTISEMENT
Article continues below this ad
Clint Bowyer came close to earning the wrath of the NFL
While at the track, Bowyer likely did not endear himself to the NASCAR community. Apparently, he decided to emulate Tom Brady and chucked his trophy away, just like how the NFL star did. The good news was that the trophy did not break, but when Brady tossed his trophy to a teammate, nobody was amused.
Apparently, he got into a lot of trouble for that stunt. The daughter of the trophy's creator accused Brady of disrespecting the trophy by tossing it around. However, it is worth noting that the Lombardi trophy has been through far worse than being used as an American football.
ADVERTISEMENT
Article continues below this ad
Coming back to Clint Bowyer, he may not really get into too much trouble. However, the NFL may not trust him with another trophy ever again. Of course, that was not the only shenanigan that Bowyer got up to at the Daytona International Speedway. Apparently, he and Jeff Gordon did a small re-enactment of the classic NASCAR movie, Days of Thunder, on the road course.
That ultimately resulted in two wrecked rental cars and two slightly battered former NASCAR drivers. Nevertheless, it looked like both former drivers were having the time of their lives on the track.
Bowyer is clearly notorious as a driver who loves to clown around, and many enjoy his presence on the track. However, he will have to be careful to not make any more frivolous bets with other drivers in the future.
ADVERTISEMENT
Article continues below this ad