Nasri ready to compete with Sterling and Delph
Published 07/19/2015, 1:54 AM EDT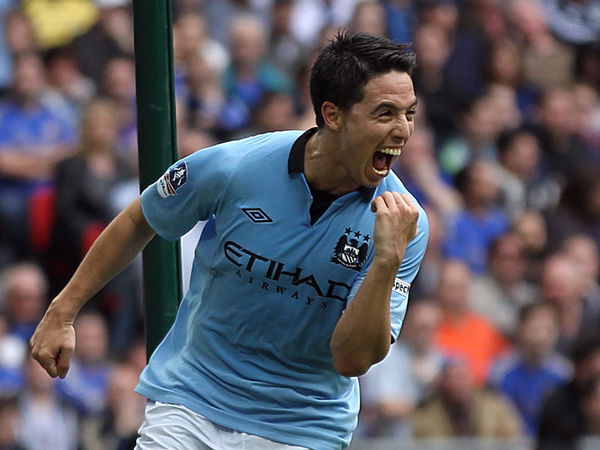 Manchester City midfielder Samir Nasri has welcomed the new signings Raheem Sterling and Fabian Delph, despite the fact that he will be competing against them for a starting place in the team.
ADVERTISEMENT
Article continues below this ad
Nasri did not have a good last season with the Manchester side, as his team surrendered their league title easily to Chelsea, and were comprehensively defeated by Barcelona in the Round of 16 of the Champions League.
City paid £49 million to Liverpool for the services of Sterling, making him the most expensive English footballer of all time. The 20-year-old winger's signing was followed by the arrival of midfielder Fabian Delph for £8 million from Aston Villa. The big amount that the club has invested in Sterling will put manager Manuel Pellegrini under pressure to play the England winger in every match.  And despite this fact, Nasri is not at all scared by the prospect of sitting on the bench.
ADVERTISEMENT
Article continues below this ad
The 28-year-old midfielder has stated that it is in the best interest of the team to buy good players to compete both domestically and at the European stage. Nasri, who scored a spectacular volley against Melbourne City in pre-season, insisted that he will continue to work hard and will fight for his place in the team.
"I have never been scared of anyone and it is not today that I am going to be scared of anyone," Nasri said in an interview. "Everyone has to raise their levels. Everyone. It is not about one player, it is about the whole team, especially when you are like us and you had a bad year."
"We didn't fight out until the end of the league because Chelsea were already champions. We know that something was wrong. It is never good when a player has a guaranteed start. You have to fight for your place every time. Otherwise you work less.
"If we want to have success in the Premier League and the Champions League, we need to buy players," Nasri continued. "The only way we will improve is buying players like Raheem and Fabian Delph. They are a good addition to the squad.
"Raheem is one of the hottest prospects in the world of football. If you are looking at how we are playing in the first two games of pre-season with 4-3-3, he is a winger that can bring speed for us and score goals. He is smart. Fabian Delph is a box-to-box midfielder and that is what we need as well."