NBA 2K: Kevin Durant Chooses Eight Teams to Play in the Tournament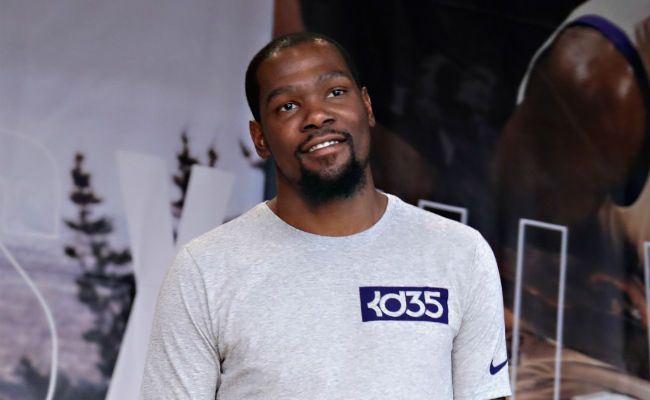 Brooklyn Nets star Kevin Durant chose seven other teams that he will play for during the players only NBA 2K tournament.
For the tournament, set to start on Friday, each player had to select eight teams. And each team would be used once along the course of the tournament. While Durant's first selection was unsurprisingly his current franchise Brooklyn Nets, he also had his previous teams Golden State Warriors and Oklahoma City Thunder.
Every player can select 8 of today's teams to play with during the tournament. BUT they can only use each team once

Reply with #NBA2KTourney and a list of the 8 teams you'd select 🤔👇

— NBA 2K20 (@NBA2K) April 1, 2020
Meanwhile, Los Angeles Clippers, Chicago Bulls, Houston Rockets, Utah Jazz, and Dallas Mavericks finished his selection.
.@KDTrey5's team picks for the NBA 2K Players Tournament 👀 What team should he use tonight? Reply with #NBA2KTourney pic.twitter.com/iQBeuQat48

— NBA 2K20 (@NBA2K) April 3, 2020
Kevin Durant leading the 16-player tournament
Durant was the biggest player of the tournament, which includes 15 others. The event will start on Friday and its eventual winner receive $100,000 to give to a charity to support coronavirus relief efforts.
"We're thrilled to partner with the NBA and NBPA to bring basketball back to fans throughout the world and to help those in need during these uncertain times," Jason Argent, 2K senior vice president, said while announcing the tournament. "Entertainment, especially sports, has the ability to bring communities together — including athletes, fans and families — and we hope that everyone will enjoy the tournament."
The list of participants for the event
Kevin Durant, Brooklyn Nets
Trae Young, Atlanta Hawks
Hassan Whiteside, Portland Trail Blazers
Donovan Mitchell, Utah Jazz
Devin Booker, Phoenix Suns
Andre Drummond, Cleveland Cavaliers
Zach LaVine, Chicago Bulls
Montrezl Harrell, LA Clippers
Domantas Sabonis, Indiana Pacers
DeAndre Ayton, Phoenix Suns
DeMarcus Cousins
Michael Porter Jr., Denver Nuggets
Rui Hachimura, Washington Wizards
Patrick Beverley, LA Clippers
Harrison Barnes, Sacramento Kings
Derrick Jones Jr., Miami Heat