"He's Got Years on Him Now" – Pat Beverley Finds a Way to Trash Talk LeBron James During the NBA 2K Tournament
Published 04/04/2020, 4:54 AM EDT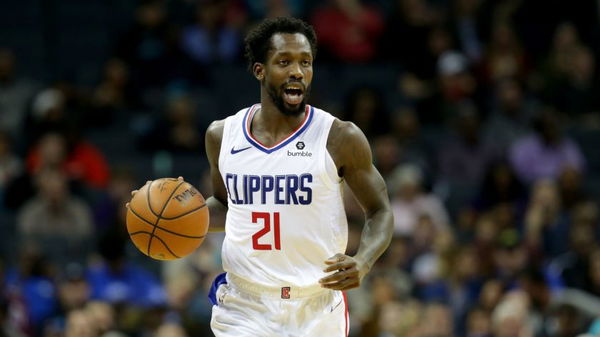 Los Angeles Clippers' Pat Beverley seems to keep finding ways of trash talking. Even with no action in the league, Beverley had his fair share of words for LeBron James.
While the league remains inactive, NBA 2K started a players-only tournament on Friday. Beverley was a part of the tournament, along with Brooklyn Nets star Kevin Durant and others. On the first day of the 16-man event, Beverley was to play Miami Heat's Hassan Whiteside.
With Whiteside choosing to play with Los Angeles Lakers, Beverley was up against the likes of LeBron James and Anthony Davis with his Milwaukee Bucks lineup. During the game, when Whiteside made a mess with an alley-oop pass involving James, it did not take long for Beverley to get at the virtual LeBron James.
ADVERTISEMENT
Article continues below this ad
"Video game James, he's got some years on him now. He can't just be jumping all over the rim now," he said.
It was not the only occasion of Beverley's trash-talking during the game. He vocalized his opinions constantly while playing the game.
Pat Beverley eventually emerged victorious in the first round of the NBA 2K tournament
Beverley came into the tournament as the 14th seed among 16 players. However, Ronnie Singh, the face of NBA 2K, said he was under-seeded.
"Two guys are under-seeded. Pat Beverley is a monster and plays just as many mind games while playing 2K as does in real life. I think he's the double-digit guy that gets the furthest," Ronnie 2K said in an interview prior to the start of the tournament.
Beverley certainly lived up to expectations in the first game- both in terms of mind games and being under-seeded. With his Bucks team, Beverley defeated Whiteside's Lakers 84-54 on a day that saw top-seeded Durant get eliminated.
ADVERTISEMENT
Article continues below this ad
ADVERTISEMENT
Article continues below this ad