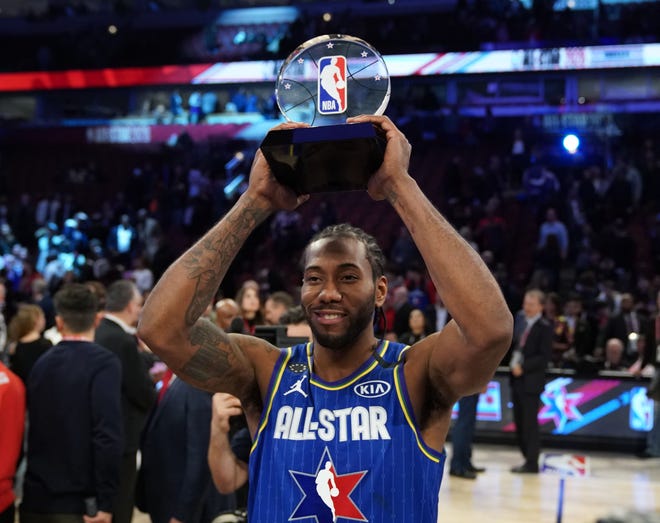 Kawhi Leonard of the Los Angeles Clippers is keeping everyone on their toes. His game just keeps improving and he just keeps performing better.
 Kawhi Leonard: The MVP
Kawhi Leonard was the first recipient of the Kobe Bryant MVP Award Sunday.
In honour of the NBA legend, the MVP award renamed. Bryant and his daughter, Gianna, were among nine people killed when their helicopter. They were all headed to a youth basketball game. the accident occurred on January 26 2020.
The Clippers star recently joined none other than Michael Jordan in one of the most exclusive clubs in the association. Leonard achieved many more milestones with his good performance at the United Center on Sunday night. Moreover, he joined the GOAT, Michael Jordan, as the only two players to win DPOY, Finals MVP, and All-Star MVP.
"It means a lot to me. Words can't even explain,"
Leonard said
.
"I wanna thank Kobe for everything he's done for me.
All the long talks and workouts, this one is for him."
Leonard was on Team LeBron, which defeated Team Giannis 157-155 with a game-winning free-throw from Anthony Davis. The game was played to a target score for the first time this year. On Sunday, the winning team was the first to reach 157 points. The winning team won $300,000.  The nonprofit Chicago Scholars will receive this charity.
 Leonard and Jordan
Jordan, a six-time NBA champion, won the Finals MVP on each occasion, shared between two three-peats; one from 1991 to 1993 and the second between 1996 and 1998. He played the All-Star Game a total 14 times, winning the MVP award in three opportunities, 1988, 1996 and 1998.
MJ started creating this club, which he was the only member until Sunday night, back in 1988. He won the NBA Defensive Player of the Year, in what meant the first of 9 times he was part of the NBA All-Defensive First Team.
Jordan finished his career averaging 30.1 points, 6.2 rebounds, 5.3 assists, 2.3 steals and 0.8 blocks per game, shooting 49.7% from the field, 32.7 from deep and 83.5 from the free-throw line.
Leonard, 28, is already a 2x NBA champion, having won the title for the first time in 2014 with the San Antonio Spurs and last season with the Toronto Raptors (first title in franchise history). Kawhi has received the Finals MVP in each of these matchups.
This season the Klaw is averaging 27.2 points, 7.5 rebounds and 5.3 assists per game, shooting 46.3% from the field, 37.4% from beyond the arc and 89.5% from the free-throw line. He's trying to boost his already impressive resume.  The NBA Finals might just see the Los Angeles Clippers this time.