Atlanta Hawks News: GM Jokes About Considering Dewayne Dedmon Trade "Right After He Got Fined".
Published 02/10/2020, 3:20 PM EST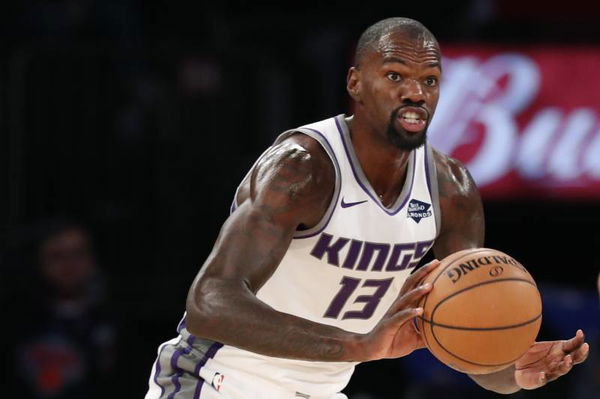 ---
---
Dewayne Dedmon was recently traded to the Atlanta Hawks and seems to be happier there. Dedmond was with the Sacramento Kings before the trade. Lloyd Pierce, the Atlanta Hawks coach hinted that Dedmon's recent lack of playing time due to a progressively diminished role with the Kings this season.
ADVERTISEMENT
Article continues below this ad
"He's been inconsistent with his minutes out in Sacramento, so who knows where he is physically," Pierce said. "He'll play his way into conditioning."
Dedmon averaged 25 minutes per game over his two seasons in Atlanta. He saw his minutes decline to about 16 per game in his first season of a three-year.
ADVERTISEMENT
Article continues below this ad
When the Sacramento Kings signed Dewayne Dedmon to a three-year, $40 million contract, it was with the hopes that the veteran would help stretch the floor and open spacing for Marvin Bagley in the post.
Up until the start of the season, Dedmon's talents were appreciated enough by the Kings. They handed the 30-year-old veteran a three-year, $40 million contract. However, poor play by the seven-year veteran cost him a starting job. Also, eventually, a spot in coach Luke Walton's rotation.
"I would like to be traded," Dedmon told Jason Anderson. "I haven't been playing, so I would like to go somewhere where my talents are appreciated."
To add to Dedmon's woes, Yahoo! Sports' Chris Haynes reported Monday morning that the NBA is looking into his public trade demand. Under the NBA's tampering guidelines, Dedmon was fined $50,000 for publically demanding a trade either on his own or through his agent.
The Kings were lucky to find a taker for the 30-year-old 7-footer.
Dewayne Dedmon's Trade and Why
The Atlanta Hawks General Manager and President of Basketball Operations Travis Schlenk, who woke Dedmon up with a phone call to deliver the news of the trade, struck a more cheerful tone when speaking about the reacquired big man, joking that he began considering a deal for Dedmon "right after he got fined [for publicly demanding a trade]."
"He's a very vocal guy in [the locker room] just like he's a very vocal guy on the court," Schlenk said. "That's important when you talk about your bigs in the NBA. Bigs in the NBA defensively are like the quarterbacks. They see everything, they have to call out the picks and just let everybody know what's coming to them."
ADVERTISEMENT
Article continues below this ad
Dedmon entered to loud cheers midway through the first quarter of Atlanta's 140-135 double-overtime home victory against the Knicks, registering a block and a dunk on his first defensive and offensive possessions.
He fouled out in the second overtime with 10 points, eight rebounds and a season-high five blocks in 33 minutes, his second-most played in a game this season. At one point on the evening, "Dewayne Dedmon!" chants erupted from the riotous 6th Man Section at State Farm Arena.
Watch This Story
"It felt good," Dedmon said. "I got back into a flow of a system that I've been used to for the past couple of years. Still got some work to do but it was good to be back. …Just trying to bring the energy, talking a lot, making sure the young guys are in the right spot."
ADVERTISEMENT
Article continues below this ad
Dewayne Dedmon With John Collins
John Collins has been turning a lot of heads with his solid play for the Atlanta Hawks. From how he has held himself in the paint against some of the better big men in the league, to his ability to defend multiple positions, he continues to impress even his fellow players.
More than his dunks though, the Hawks rookie has been producing solid numbers of 11.5 points and 7.1 rebounds. He has achieved this in 22.9 minutes per game through 20 contests so far. Despite the Hawks being in rebuild mode, John Collins is proving his worth. He is giving their fans reason to believe that their team's future is bright. He is also radiating that he will be one of their cornerstones in the coming years as well.
Dewayne Dedmon scored 11 points with nine boards, a steal and two blocks while John Collins added 21 points, nine boards and two blocks on Monday.
This isn't the first time that John has played with another center.
It's great to see both of them produce and not cancel each other out and there is potential there for both players to have standard league value. Dedmon has been spectacular over his last six, averaging 13.7 points, 9.5 boards, 0.7 steals and 0.8 blocks on 73.5 per cent shooting. Collins has scored well in his past six, but Monday night was the first game recording a block after going swatless in his previous four.
When directly asked if he considers Collins a priority for the Hawks' future, Schlenk gave a succinct answer. "Yeah. John is one of our best players," Schlenk said.