NBA Awards for 2019-2020 Regular Season; If Coronavirus Halt Continues
Published 03/15/2020, 8:32 AM EDT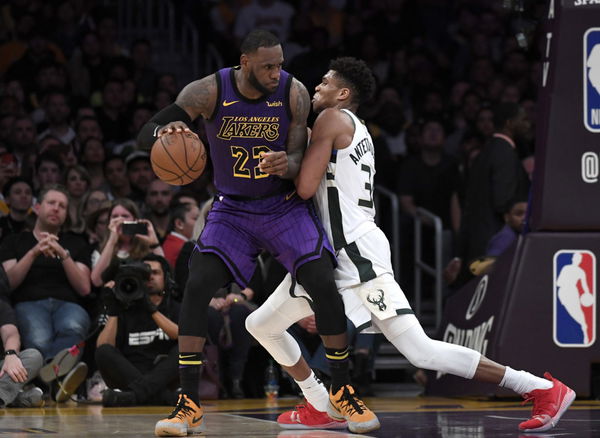 ---
---
NBA is suspended for an indefinite time(at least 30 days). And experts behind the scenes are anticipating that this might be the end of the regular season. But in reality, it's on time to tell us whether we are going to see direct playoffs or season is gonna extend till late August. With conditions amid Coronavirus, the prospect of direct playoffs is not looking that bad for the regular NBA fan. With the direct playoff in mind, a generic question rises. That who will get the regular-season individual awards or NBA Awards like MVP, DPOTY, Coach, and Rookie of the Year.
ADVERTISEMENT
Article continues below this ad
And this is the piece where we will try to figure out this generic yet important question based on the matches played in the NBA so far:
Most Valued Player(MVP):
ADVERTISEMENT
Article continues below this ad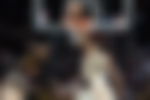 So, let's go straight to the dirt. No doubt about this, but reigning MVP Giannis Antetokounmpo is looking pretty comfortable this year too, to clinch Maurice Podoloff Trophy. Maybe you were expecting someone from LA Lakers(read: LeBron James) but sorry to break your heart that season starts from late October, not after All-star.
Giannis has been scary good for Milwaukee Bucks this season. This man is literally carrying Bucks both offensively and defensively all season long. Until suspension of NBA, he was leading the Bucks to a historic 70+ win pace in Eastern Conference. Giannis was also shooting an astonishing 29.6 points per game, and rebounding at 13.7 per game, two figures that should be nearly impossible for any player who does more than a dunk. If you look at plain stats and figures, then there is only one name that arises i.e Giannis. Unless if you try to monkey balance with DPOTY then it could be LeBron.
LeBron has definitely given some run to Giannis, especially after that All-star game but now due to suspension of NBA, things are looking more favorable for Bucks superstar. If season resumes, where it has ended then King James might be able to capture Giannis' crown. But until then these 'NBA Awards' are for Giannis & Bucks to lose.
Defensive Player of The Year(DPOTY):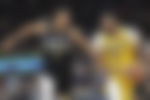 If you talk about teams with tight-lock defense. Then, Milwaukee Bucks has built an almost impenetrable castle this season; best the NBA has seen in a long time. And this is all thanks to the one man, well you guessed it right it's Giannis Antetokounmpo. It's crazy how Antetokounmpo has changed the Bucks defense in a year. Giannis has been really hard to score against this season. His individual defensive metrics are just astonishing. Opponents are shooting 9.7% worse against Giannis than they would normally expect to based on where they shot from.
The only close contender apart from Giannis is Lakers, Anthony Davis. If Giannis is able to win MVP, then Anthony's claim on DPOTY will automatically get double. And if LeBron is able to win MVP somehow, then DPOTY will undoubtedly be Giannis. Not surprisingly but this is how awards work.
Rookie of The Year(ROTY):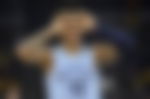 Ja Morant and it's not even a question. At 17.7 points, 7.0 assists and 3.4 rebounds per game on 49.2 percent shooting, the guard has proved his worth to the world of basketball. The only challenger for Ja Morant this season was obviously Zion Williamson, but due to his injury midway in league trophy slipped into hands of Ja Morant and rightfully so. Zion is definitely a generational talent but he also might agree on this selection of his fellow draft player as Rookie of The Year.
Coach of The Year(COTY):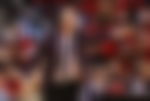 Coach of the Year for the 2019-2020 NBA season is Toronto Raptors, Nick Nurse. He is the clear cut choice for the Coch of the year this season. Coach Nurse lost his best player(Kawhi Leonard) last summer and the defending champions are looking almost as lethal as they did last year. The guy's standard is nothing but greatness. Not to forget, Nick's Raptors created a franchise-record 15 game win streak this season. Along with this, Raptors also achieved 46 points win this season which 'wait for it' is also a franchise-record. Currently, they sit 2nd on Eastern Conference table and have 46-18 record which astonishingly matches their previous year exploits. Still, think someone else deserves this trophy more than Nick Nurse?
Most Improved Player(MIP):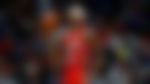 Brandon Ingram has undoubtedly shred all doubts which were laid upon him this season. He has grown into a more confident and lethal player after leaving LeBron James' shadow in Lakers. His consistency for Pelicans had been admirable by all. By all standards, he should get the MIP award.
Sixth Man of The Year(SMOTY):
ADVERTISEMENT
Article continues below this ad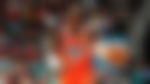 It's a hard choice but Oklahoma City Thunder's Dennis Schroder takes the cake. Lou Williams is the second closest after Dennis for this award.
ADVERTISEMENT
Article continues below this ad
The NBA regular season awards will most probably play out like this. Other awards including the Executive of the year might go to LA Lakers 'Rob Pelinka'. In the end, we all are just waiting for the NBA to resume so that we can see our favorite teams play and then decide who to give these individual awards to. Till then "Self Quarantine and chill'.