Paul Pierce Makes Bold Prediction About Golden State Warriors' Chances at an NBA Championship
Published 03/15/2021, 11:53 PM EDT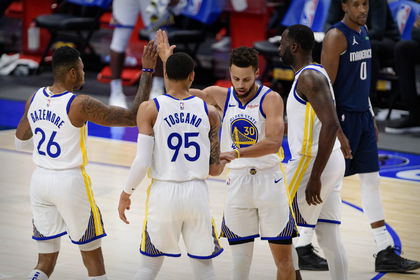 ---
---
There is a big question mark about the Golden State Warriors' chances of even making it to the playoffs this season, let alone to a title. Standing ninth in the Western Conference with a 20-19 record doesn't look bad, but the team has struggled to keep wins coming and has had major trouble being consistent.
ADVERTISEMENT
Article continues below this ad
It's been clearer than ever that Steph Curry can only take the team so far, and Klay Thompson's absence couldn't be more evident. However, with a trade deadline coming up, the Warriors seem to be active in trying to bag a third lead scorer for themselves. Most rumors are indicating their interest in Houston Rockets' Victor Oladipo.
Are the Warriors a lost cause?
ADVERTISEMENT
Article continues below this ad
The Warriors think that adding another great player to their roster will solve their issues. But that's not what Paul Pierce believes, and he has made a prediction of his own. Pierce explained that while it seems like they have a window to a title since they have a "superstar player, a generational player," that's not the case.
"If you make these types of moves like trading for Oladipo, does that really make you better," Pierce questioned. "Does that really say, 'Oh! the Warriors are a threat.' No, it doesn't. It just puts you in the same position you were in yesterday."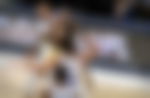 Paul gave a solution to the problem and stated, "So, if there is not a trade out there, you wait till Klay comes back next year, you see what's out there in the open market for trade bait or free agency. Or see what you can create with your draft picks and go from there. Listen, their window is closed because there isn't a trade out there. It's not going to happen. As these other teams get better across the team, Phoenix, Utah… I think that there is a strong possibility that they can't win another title because they need another player that's not available and won't be available."
Will a Victor Oladipo trade help?
First of all, the Warriors will not get a shot to acquire Oladipo in free agency because they are capped out. The Warriors need someone who can score alongside Andrew Wiggins when Stephen Curry is out.
ADVERTISEMENT
Article continues below this ad
Adding Oladipo will certainly give them that third scorer, but will he be able to fit with Curry? That's the million-dollar question. If he joins the Warriors, he will take the two-guard position and will go back to three once Klay Thompson makes his comeback.
Bringing Oladipo in comes with both pros and cons. What should the Warriors do in this scenario?
ADVERTISEMENT
Article continues below this ad
Read also- Former NBA Champion Warns Warriors Organization that Steph Curry Might Join LeBron James' Lakers