WATCH: Mavericks' Luka Doncic Humiliated Paul George With His Behind-The-Back Crossover
Published 03/18/2021, 1:33 AM EDT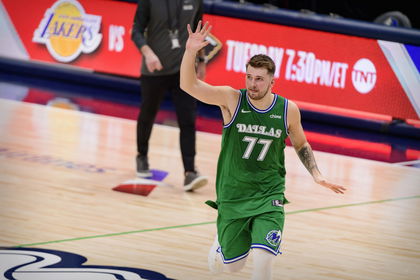 ---
---
There is no predicting what the outcome will be when the LA Clippers and the Dallas Mavericks lock horns. It goes back to their meeting in December when the Mavs brutally defeated them by 51 points. And now, in a two-game mini-series, the Clippers triumphed first and now the Dallas Mavericks have gotten them back with a 105-89 win. However, their win wasn't even the highlight of the game. Of course, without Luka Doncic putting up a splendid show, their victory would have been incomplete.
ADVERTISEMENT
Article continues below this ad
Luka Doncic humiliates Paul George
The Dallas Mavericks currently stand eighth in the Western Conference with a 21-18 record. At the beginning of the season, the Mavericks seemed to be struggling to get W's to their tally. However, the tables have turned since then, and they are showing more momentum now than we've seen all season.
ADVERTISEMENT
Article continues below this ad
Whereas, the LA Clippers have been one of the top few teams in the West since the beginning. They are in the fourth spot with a 26-16 record and have shown that they are a better team than the Mavericks, but that wasn't the case tonight. Overall, the Mavericks might have disappointed their fans a bit, but Luka Doncic has been spectacular all season.
He stood up to all the expectations set on him tonight as well. Finishing the night with a whopping 42-point performance along with 9 assists and 6 rebounds was also not the best part. The highlight was Doncic's behind-the-back crossover against one of the most elite defenders in the league, Paul George.
Despite what happened, George and Doncic were seen hugging it out after the game. It looked like George was actually praising Doncic for pulling off whatever he did.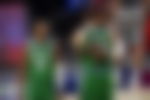 The Mavericks have more to prove ahead
The Mavericks found most of their success shooting from the arc in this matchup. However, Paul George and Kawhi Leonard did not let it be a blowout win. They were constantly trying to close the gap between the scores. George and Kawhi scored 28 and 20 points, respectively, for the Clippers.
It was just their hard luck that Luka Doncic decided to bring his A-Game. Kristaps Porzingis and Josh Richardson also played a vital role in this win with their contributions to the scoreboard.
ADVERTISEMENT
Article continues below this ad
This isn't the end of the Mavs' test. Next up, Luka Doncic has to face the Damian Lillard-led Portland Trail Blazers. Although the Mavericks are still in playoff reckoning, they are at the edge. Any loss will cost them greatly, and they will be on their toes.
Read also- Mikal Bridges Breaks Down How He Guards Luka Doncic- Compares Him To James Harden
ADVERTISEMENT
Article continues below this ad