"If They Trade Em, They Tripping": NBA Fans Explode as $125 Million Star May Bring Good News for Luka Doncic or Kevin Durant as per Latest Trade Rumors
Published 12/13/2022, 4:50 AM EST

Follow Us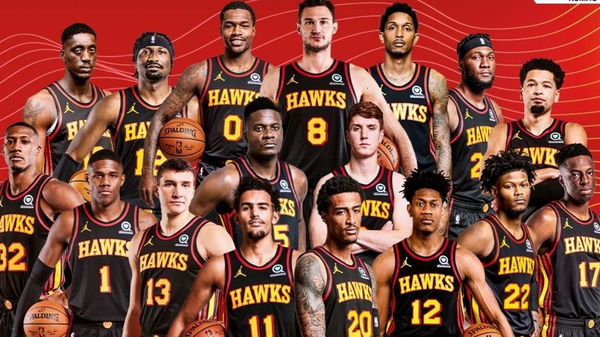 It has been an understatement to say that Atlanta Hawks' big guy, John Collins has been associated with trade talks for a while. Simply because he has been a feasible option for trading for the past 2 seasons. This could pose as good news for Luka Doncic or Kevin Durant, as per the latest rumors.
With the NBA deadline approaching later this week, several franchises have shown interest yet again in the player. Sham Charania of The Athletic reported that the Brooklyn Nets, Utah Jazz, Washington Wizards, and Dallas Mavericks, were all interested in Collins.
ADVERTISEMENT
Article continues below this ad
Fans exploded on social media. One netizen tweeted, "If they trade em, they tripping". Others anticipated and calculated what a move would mean for Doncic's Mavericks or Durant's Nets.
You know what would have been really smart @mavs: Trading for Collins this summer and not giving THJ the bag. But okay, maybe you can convince the Hawks to take Wood, Josh green, and a pick for Collins smh

— Adam Sliver's Burner (@SliverBurner) December 12, 2022
This is like putting Christmas decorations up in November before Thanksgiving even hit….too soon for this rumor to circulating. Like last year, and every other year, he will remain in ATL.

— Sharky McSharkster (@sharky_mcshark) December 12, 2022
Jc on the nets, wizards would be nice even the mavs tbh

— Alphafuu 🐺 (@McClellanKenny2) December 12, 2022
A week before, media had reported that the Nets "touched base" with the Hawks about a potential John Collins trade. Unfortunately for the Nets, Charania claimed that the Atlanta Hawks are not completely convinced of the trade. He wrote, "Atlanta has not shown interest so far in a potential framework that would contain Brooklyn's, Joe Harris".
Why are Kevin Durant and Luka Doncic interested in this Hawks player?
The $125 million star John Collins has been averaging 16 points and 8 rebounds over the course of his career. But his injuries this season have set him back quite a bit and he has not played since the beginning of this month and is recovering from a sprained left ankle.
ADVERTISEMENT
Article continues below this ad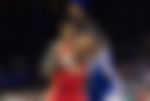 If he had made a move to the Nets, Collins could have filled in the blanks for the team. Kevin Durant's team has been noted to struggle against bigger and more physical opponents. Collins can also shoot a triple effortlessly.
The Dallas Mavericks have been looking to clean up their roster. The media observed that John Collins would be able to do well for the defensive side, and yet bring his offensive skills to the table. Acquiring the young player would essentially "capitalize on Doncic's timeline if needed". It seems like he would compliment Luka Doncic.
ADVERTISEMENT
Article continues below this ad
Watch This Story: How Tall is Young Starlet Victor Wembanyama in Comparison with LeBron James, Shaquille O'Neal and Kevin Durant?
Will a Collins trade be dealt finally or will his health dictate his future?
Edited By: Gideon Mathson