Kevin Hart, Leonardo DiCaprio and Other Celebrities Stood Witness as Shannon Sharpe Fought the Grizzles in a Nervy Lakers Win
Published 01/21/2023, 11:10 AM EST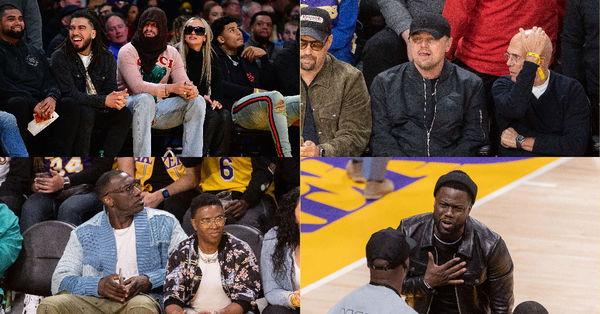 The Friday night game between the Los Angeles Lakers and the Memphis Grizzlies has attracted a lot of attention from the fans albeit for a slanted reason. Despite the Lakers' nail-biting finish, the Shannon Sharpe halftime saga has become the talking point of the night. Moreover, Hollywood celebrities like Leonardo DiCaprio, and Kevin Hart, among other stars witnessed the nasty on-court altercation along with the fans. 
During the halftime break in the Friday night game, the NFL legend Shannon Sharpe engaged in a verbal altercation with Ja Morant's dad, Tee Morant, and the Grizzlies center, Steve Adams. The staff and the arena authorities barged into the fight and took Sharpe away from the scene. 
Hollywood celebs witness Shannon Sharpe's drama during Lakers game
ADVERTISEMENT
Article continues below this ad
The Lakers' games are never short of entertainment, as Hollywood celebrities like Phill Ferrell, Denzel Washington, and Snoop Dogg often make their appearances on the court side.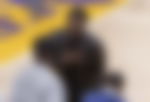 Similarly, the Friday night game against the Grizzlies also had a star-studded arena. The Revenant star Leonardo DiCaprio witnessed the Shannon Sharpe incident with other celebrities like Kevin Hart and Jennifer Hudson.
Despite the drama, the fans enjoyed a nail-biting game as the Lakers won against the Grizzlies with a one point difference at the end. (122-121).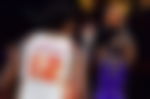 ADVERTISEMENT
Article continues below this ad
Although the NFL Hall of Famer and Tee Morant fought during halftime, the duo eventually hugged it out after the third quarter. Dave McMenamin, an ESPN reporter, shared pictures of the duo hugging after the third quarter. He also wrote, "Cooler heads have prevailed for Shannon Sharpe and Tee Morant. They shared an embrace at the end of the third quarter." 
What happened between Shannon Sharpe and Tee Morant?
After the incident, Sharpe revealed his side of the story. He said, "It started with Dillon Brooks. I said he was too small to guard LeBron. He said, F*** me. I said 'F*** you' back." In the video that surfaced on the internet, Grizzlies stars and Tee Morant shouted back at the NFL legend leading to utter chaos. However, Grizzlies star Dillon Brooks took a sly dig at the NFL legend post the game. He said, "A regular pedestrian like him? No. He shouldn't have ever came back in the game. But it's LA."
ADVERTISEMENT
Article continues below this ad
Watch This Story – Years before calling himself the goat, LeBron James wanted to honor Michael Jordan, pushing NBA to take a huge step
What do you make of the Shannon Sharpe incident? Let us know in the comments.
Edited By: Jayant Chhabra