8 Years After Saving "Overdosed" Lamar Odom at a Brothel, Khloe Kardashian Gets "I Still Love Her" Message From Ex-Lakers Star
Published 01/22/2023, 11:50 AM EST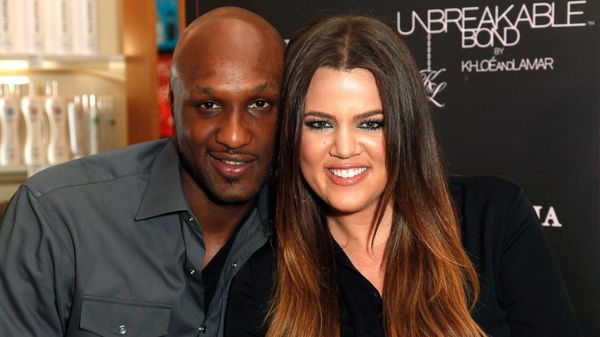 NBA legend Lamar Odom and reality TV star Khloe Kardashian are one of the most controversial former couples in the league. Despite the end of their relationship in 2016, the former couple has become a topic of discussion recently after the release of the documentary, 'TMX Presents: Lamar Odom: Sex, Drugs & Kardashians'. In the documentary, Khloe Kardashian recently received an 'I still love you' message from Lamar Odom eight years after saving the 'overdosed' former Los Angeles Lakers star at a brothel.
Lamar Odom's 43-minute documentary was aired last Monday on Fox. In the documentary, the two-time NBA champ revealed the details of his broken relationship with Khloe Kardashian in depth. Moreover, Odom also expressed his desire to reconnect with his lost love.
Lamar Odom demands a chance to reconnect with Khloe
ADVERTISEMENT
Article continues below this ad
As per footage from the TMZ documentary, Lamar Odom told TMZ's Harvey Levin "I would love to just take Khloé out for dinner. [To] be a friend. That's it." However, Odom reckoned that he was 'too shy' to reach out to his ex-wife. Moreover, Odom praised Kardashian for being a great wife who always tried to protect him. The 2011 Sixth Man of the Year was also embarrassed by past actions and his addiction to drugs which led to the end of his marriage with Khloe Kardashian. In addition, the NBA veteran also disclosed his regrets about his relationship.
Khloe Kardashian filed for a divorce in 2013 due to Odom's drug habits and infidelity rumors. But still, she went to a Nevada Brothel in October 2015, just to save the life of an overdosed Odom. The 'Keeping up with the Kardashians' star also called off her divorce while Lamar Odom was recovering. However, Khloe Kardashian eventually refiled a divorce in 2016.
While Khloe Kardashian has moved on with her life, the Lakers veteran hoped to get another chance of reconnecting with his lost love, even if it was as a friend. Moreover, Lamar Odom also expressed his desire to protect Khloe Kardashian despite having divorced for years.
Odom wants to protect Khloe Kardashian
ADVERTISEMENT
Article continues below this ad
In the documentary, Lamar Odom claimed that he was still affectionate of Khloe Kardashian and wished the best for her. Further, the former NBA star also expressed his desire to be Khloe's knight in shining armor without the romance. However, Khlo Kardashian moved on with Cleveland Cavaliers legend Tristan Thompson and also has two children with him. Also, given the dynamics of Khloe's complicated relationship with Thompson, Lamar felt the need to help her out
Odom stated, "When she gets hurt, of course, that hurts me. I think what hurts me more is that it's not in my place to protect her. I can only protect her when she say, 'Lamar, I need your help with this.'"
ADVERTISEMENT
Article continues below this ad
WATCH THIS STORY: Kobe Bryant meeting paled in comparison to NASCAR drivers encounter with this Hollywood star once I never see her again
At the same time, Lamar Odom wished that Khloe Kardashian would have a better romantic experience in the future after her disastrous past relationships with himself and Tristan Thompson.
Edited By: Jayant Chhabra