Michael Jordan Headlines Star Studded List Of Celebrities Investing $305 Million In NBA Top Shot
Published 03/30/2021, 5:00 PM EDT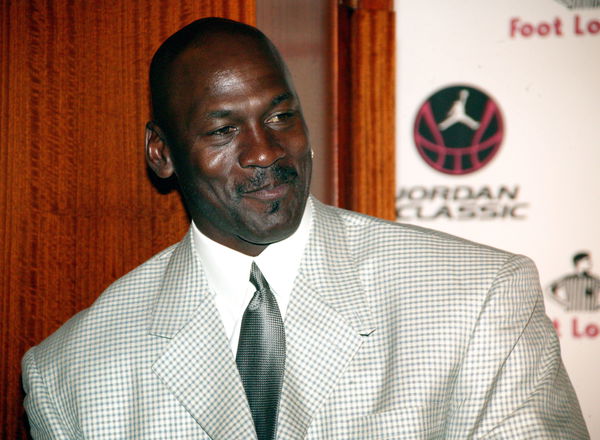 ---
---
Michael Jordan is a very shrewd businessman. The billionaire has gotten to that position by ensuring he gets the maximum value out of his name and investments. While he has had some bad calls in the financial world, MJ is an example of financial well-being that basketball players can look up to.
ADVERTISEMENT
Article continues below this ad
Jordan is one of the few players in professional sports who have gone from being an active player to a team owner. This is especially hard in the NBA, as Jordan is the first and only man to have pulled this off. However, owning an NBA team doesn't mean that Jordan will stop trying to look at more avenues of money-making, and it seems he has found a new one.
ADVERTISEMENT
Article continues below this ad
Jordan joined NBA stars like Kevin Durant, Klay Thompson, Andre Iguodala, and Alex Caruso to be a part of the group making a $305 million investment into Top Shot.
This group also includes actor Will Smith and musician 2Chainz. Top Shot basically works as an online trading pack machine, but for basketball highlights.
The website is already seeing cards on Top Shot sell for thousands of dollars. There are email blast lines that people wait in to get a chance to open a Top Shot pack. It is definitely a good idea and seems to be exploding on its own.
Michael Jordan: Why is he making this investment into Top Shot?
ADVERTISEMENT
Article continues below this ad

Michael Jordan knows an opportunity when he sees one. Not investing in Top Shot right now could have been a costly mistake in the future. It follows the same procedure of loot-boxes from major video games. However, this time around, cards can actually hold monetary value and aren't restricted to in-game use.
Allowing players to own parts of their iconic moments seems like a great idea. While Top Shot is also open to the public, this round of funding shows that the site has found a lot of support in the regular NBA today.
ADVERTISEMENT
Article continues below this ad
This website has the potential to be a massive game-changer in how fans of the sport interact with it digitally. Owning small highlight packs and being able to trade them is what everyone did with Pokemon cards growing up. Top Shot lets you do this with highlight clips, but one can also sell these for money. It was certainly a great move by MJ and the others for deciding to jump in on this.