Steve Kerr Puts Blame on Team's Poor Play Instead of Poor Officiating for Golden State Warriors' Loss to Knicks
Published 01/22/2021, 4:04 AM EST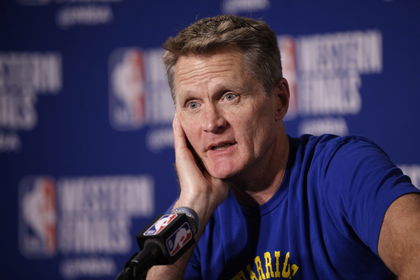 ---
---
During the 2nd quarter in Golden State Warriors' game against the New York Knicks, the officials mistakenly ejected Draymond Green. Referee John Butler gave him his second technical foul when he thought that Green was yelling at him when, in fact, the vocal leader was screaming at rookie, James Wiseman.
ADVERTISEMENT
Article continues below this ad
Draymond Green just got ejected for picking up his second technical foul.

Green was talking to teammate James Wiseman, but the ref thought he was talking to him and ejected the Warriors forward. 🤦🏽‍♂️pic.twitter.com/EDyqj6B2ra

— ClutchPoints (@ClutchPointsApp) January 22, 2021
ADVERTISEMENT
Article continues below this ad
Warriors' coach Steve Kerr made a startling revelation in the post-match press conference regarding the incident and said, "At half-time, Ben Taylor (referee) came out and told me that it was a mistake that he didn't realize that John Butler didn't realize that Draymond was yelling at his teammate (James Wiseman). He thought he was yelling at him."
It was a classic case of misunderstanding, but one that may have cost Warriors the match. When Green was ejected near the end of the 1st half, they were pretty much in the game. In fact, they were building some momentum after trailing the Knicks by 9 points at one point to cut that lead down to 5 points when he exited the game.
However, coach Steve Kerr is pointing the finger at his players for the defeat rather than that absurd call. They made just 9 of their 38 three-point attempts while their defense recorded just 3 blocks compared to the Knicks' 9.
"I mean, obviously Draymond is, you know, one of our best and most impactful players. So it hurt us, but we were playing very poorly to that point, anyway. So I am not going to talk about the officiating, I am gonna talk about our poor play," remarked Kerr.
Golden State Warriors' Green demands clarity
ADVERTISEMENT
Article continues below this ad
The former defensive player of the year did not hide his disappointment with the call, unlike his coach. Not only was he surprised that the officials did not overturn the call, but he also demanded the reason they couldn't do so.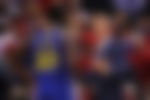 "I'm just a bit confused. Officials can meet and make a decision on any call throughout the game, but when it comes to a technical that was clearly the wrong call, due to an official assuming I was talking to him when in fact I wasn't, that can't be overturned?… I would love clarity on why that's the rule if, in fact, it is a rule," Green told Marc J. Spears of The Undefeated.
ADVERTISEMENT
Article continues below this ad
GSW's rollercoaster of a season continues. While there have been flashes of brilliance by their promising young players, they have been far too inconsistent. Maybe now, Draymond will play with a chip on his shoulders and help out the lone ranger, Steph Curry.