Barack Obama Took a $1.7 Billion Jab at Michael Jordan on National Radio for Golf Trash Talk in 2014: "He Might Wanna Spend More Time.."
Published 11/17/2022, 1:10 PM EST

Follow Us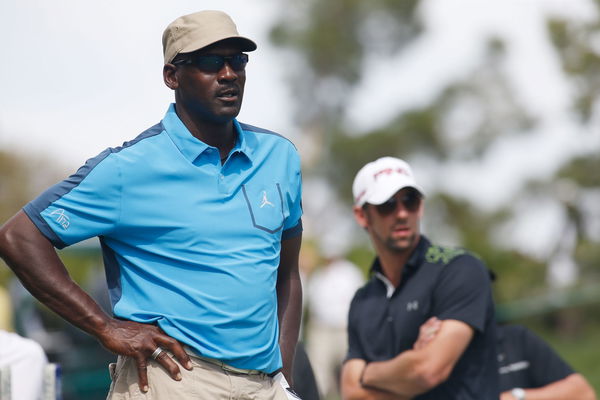 It is no secret that Michael Jordan loved talking trash during games and still does. The only difference is that before it was on the basketball court and after his retirement, the golf course. Due to his competitive nature, His Airness didn't even spare former President Barack Obama. However, the former POTUS too had a few things to say to the NBA legend.
Michael Jordan has played golf with several big names and influential figures. His elite golfing partners include Bill Clinton, Tiger Woods, Rickie Fowler, and Barack Obama. In 2014, Jordan and Obama made the headlines when the duo engaged in harmless trash-talking. Brownie points to those who can figure out who started the trash talk! Well…you probably guessed it right.
ADVERTISEMENT
Article continues below this ad
It was the Chicago Bulls legend who first took a little dig at the then-POTUS. However, Obama was not among those who easily backed down. He took a swipe at MJ through a radio interview.
Barack Obama swipes back at Michael Jordan
The radio host asked Barack Obama to give his thoughts on the comments that were recently made by Michael Jordan.
"There's no doubt that Michael is a better golfer than I am. Of course, if I was playing twice a day for the last 15 years then that might not be the case. You know, he might wanna spend more time thinking about the Bobcats, or maybe the Hornets because that's a whole another issue," said Obama to the host.
The Charlotte Hornets were off to a slow start during the NBA season 2014-15. They had already lost three games out of the five they had played. The Hornets have an estimated net worth of $1.7 billion.
ADVERTISEMENT
Article continues below this ad
About a week earlier, Michael Jordan trash-talked to Barack Obama. During an interview, host Ahmad Rashad asked MJ who he would include in a dream golf foursome. In response, Jordan first cleared it out that Rashad would not be a part of the group, and nor would Arnold Palmer and Obama.
When Rashad asked to clarify if he meant the POTUS was a hack, Jordan replied that he did not question his work as a politician. However, the NBA legend did agree that Obama was not a good player.
In fact, his exact words were, "I never said he wasn't a great politician. I'm just saying he's a sh***y golfer."
ADVERTISEMENT
Article continues below this ad
Watch this story-  Each time Bad boy Pistons bullied and beat up Michael Jordan and Chicago bulls on the court
If it was anyone else, they wouldn't have dared to speak against the President. However, MJ seems to make no exception when it comes to sports.
Edited By: Bagavathi Eswaran