UFC President Dana White Says Shaquille O'Neal is 'The Most Quality Human Being You'll Ever Meet'
Published 04/15/2021, 11:08 AM EDT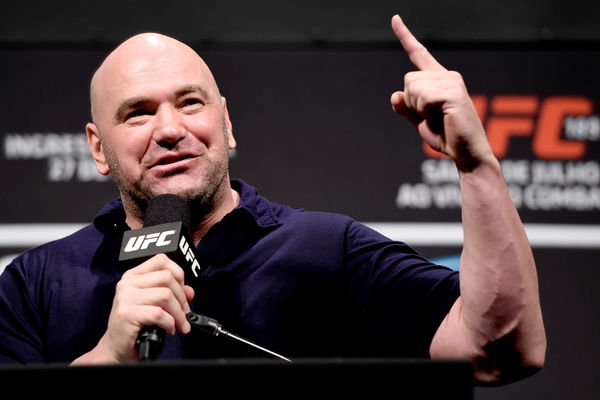 ---
---
Shaquille O'Neal is one of the greatest big-men in NBA history. He is arguably one of the greatest players of all time- his record says it all. After all, Shaq likes to remind people that don't know about him to 'Google him', as all his accolades are readily available to anyone who does that.
ADVERTISEMENT
Article continues below this ad
However, not everyone looks at Shaq just for his play on the basketball court. The person underneath the 7-foot titan is just as spectacular as the basketball player, according to many. One person to share that opinion is UFC President Dana White, who recounted his and Shaq's friendship.
ADVERTISEMENT
Article continues below this ad
"Shaq did the first Ultimate Fighter. That season, he shot the commercial for us. And he killed it. It was cool and different than anything else done in fighting. Anytime I have ever needed Shaq, he was there. And anytime he ever needs me, I'm here. We've been friends for a long time. Forget about all the celebrity stuff, you couldn't meet a more quality human being than Shaquille O'Neal."
Shaquille O'Neal: Has he lived up to what White is saying about him?
ADVERTISEMENT
Article continues below this ad
Shaquille O'Neal is undoubtedly one of the most charitable celebrities in the world. He has been donating his time and money to numerous good causes. From annual Christmas drives where he gives out gifts as Santa to helping people pay their bills at grocery and jewelry stores, Shaq is known to do it all. He has his own foundation as well, which he uses to do good in the community. Shaq has often spoken about the values his father had instilled in him, and now that he is in a position to help others, he rarely shies away from that opportunity. He gave this interview to talk about things that his foundation is doing. There aren't many people with Shaq's status that actively give to the community.
ADVERTISEMENT
Article continues below this ad
Dana White's experiences with Shaq are definitely more personal, something they even alluded to earlier in the interview. But what Shaq has been doing in front of the public eye is more than amazing and should be commended.