"His Hypocrisy Is off the Charts": After Major Brawl at Lakers Game, NFL Veteran Shannon Sharpe Gets Ripped Over Contradictory Resurfaced Footage Found by Fans
Published 01/22/2023, 7:30 AM EST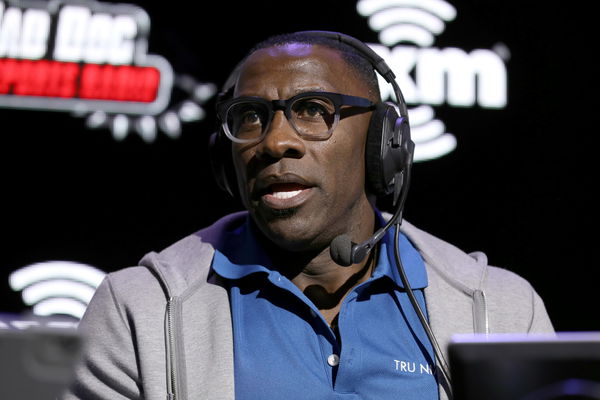 In yesterday's match-up between the Los Angeles Lakers and Memphis Grizzlies, things turned ugly after former NFL star Shannon Sharpe went off against the Grizzlies team. Right after the half-court buzzer, Ja Morant's father Tee Morant approached Sharpe. The Grizzlies and the Lakers staff had to separate the two after the altercation. The NFL Hall of Famer told the media, it started with the Grizzlies guard, Dillion Brooks. Sharpe agreed to the fact that he started to trash talk with Brooks, saying "You are too small to guard LeBron". 
Things settled after both Sharpe and Tee Morant hugged it out in the third quarter. However, Sharpe's controversial statement on 'Undisputed' a year ago caught the attention of the NBA world. After the statement, Sharpe is now being called out for hypocrisy on Twitter. 
Fans fire shots at Shannon Sharpe for his statement on Undisputed
ADVERTISEMENT
Article continues below this ad
Sharpe, on 'Undisputed', mentioned, "You think because you pay an exorbitant amount of money, and the athletes are there to entertain you, you can say, you can do whatever. It is well within my right because I pay 5000 or an exorbitant amount for this ticket! You cannot, You should not." 
Sharpe added, "You cannot say certain things, like what they be saying, and think that is okay. And what is transpired is that America has become more comfortable to say things to people then use the terms 'Oh you soft'."  Talking about how players should be treated by the fans, the NFL veteran added, "Give me my respect. That's all I ask!",
A fan on Twitter shared a video of Shannon Sharpe's statements on the show causing a buzz on Twitter. Here are some of the reactions from the fans:
Rich famous people don't shared the same rules/values as us common folks!! The average Joe would have been removed from the Arena so fast….

— STMC (@ShaneCarty16) January 21, 2023
He will be a no show for the Monday show now.. this will make 2 times now 🤣🤣🤣

— sean hall (@goosehall63) January 21, 2023
ADVERTISEMENT
Article continues below this ad
The NBA world is now eager for a reply from Shannon Sharpe.
Dillion Brooks takes a shot at Shannon Sharpe
When asked about the altercation after their loss against the Lakers, Dillion Brooks referred to Shannon Sharpe as a 'regular pedestrian', disrespecting the NFL star. He added, "He shouldn't have come back to the game, but it's LA".
ADVERTISEMENT
Article continues below this ad
Watch this story: "3x Superbowl champ Shannon Sharpe thinks MVP race is done and dusted by citing an eagle eyed star"
While the beef between the both might continue, Tee Morant and Shannon Sharpe hugged it out in the 3rd quarter of the game.  Morant said after the game "Shannon didn't do anything. Hey, he was doing like we do in South Carolina". 
Edited By: Jayant Chhabra