15 Days After His Mother's Death, Khloe Kardashian Makes Big Decision on "Reconciling" With "Cheating Ex" Tristan Thompson
Published 01/21/2023, 2:10 PM EST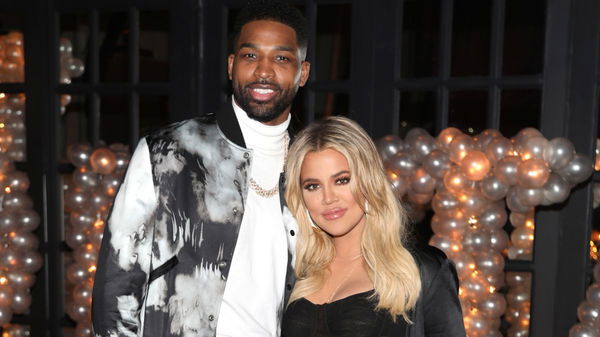 Cleveland Cavaliers legend Tristan Thompson and renowned reality TV celebrity Khloe Kardashian have been among the most controversial couples over the past few years. Despite having separated from the 2016 NBA champ in 2021, Khloe Kardashian has stood strong in support of Tristan Thompson since the passing of his mother Andrea on January 5. The Keeping Up with the Kardashians star was present during the funeral service on January 14 along with sisters Kim Kardashian & Kylie Jenner, and mother Kris Jenner. The recent display of affection from Khloe Kardashian during tragic times has left many fans wondering if she might consider getting back with Thompson. However, just over two weeks after the death of his mother, Khloe Kardashian has made a huge decision about 'reconciliation' with 'cheating ex' Tristan Thompson, as per a source close to them.
Khloe Kardashian and Tristan Thompson started dating in 2016. They remained in an on-and-off arrangement since 2021 before the reality TV star finally called it quits. Despite having problems in their relationship, the former couple has two children together. However, Khloe Kardashian finally decided to part ways with the father of her children after reportedly his third instance of infidelity. However, a source recently revealed that Kardashian has already made a major decision regarding her reconciliation with the former NBA star.
Is Khloe Kardashian getting back with Tristan Thompson?
ADVERTISEMENT
Article continues below this ad
As per Hollywood Life, a source close to the stars revealed that Khloe Kardashian and her family showed up at the funeral 'because they wanted to'. Moreover, the source also shed some light on Tristan Thompson's late mother Andrea's influence as a grandmother on Khloe's kids. The source revealed that their four-year-old daughter True adored Andrea, who had been there for her grandchildren. In addition, while talking about Andrea's influence on their younger son's life, the source stated, "It is a shame that he will never get a chance to know his grandmother because she is an amazing woman."
Further, a source close to Khloe Kardashian also revealed the details of her current mindset on the idea of getting back with Tristan Thompson. The source shared, "Khloe thinks that the way things are now between the two of them is perfect. He respects her and he is a great father to their kids. They both know that she is not going to give their romance another chance. She can't and he understands this."
According to the source, Khloe has no intention of getting back with Tristan Thompson, and the NBA star was probably well aware of the reality. Moreover, the source reckoned that Tristan had been a good father and that the current co-parenting dynamic of his bond with Khloe was working quite well. Khloe Kardashian might not be in favor of changing that.
ADVERTISEMENT
Article continues below this ad
So, fans would be shocked to know there is reportedly no chance of Khloe Kardashian reconciling with Tristan Thompson as of now.
Why did Tristan and Khloe break up?
Despite being a compatible couple, Tristan Thompson and Khloe Thompson had their own problems. As a result, the former duo split a number of times in the past due to infidelity rumors about Thompson. However, Khloe finally decided to break up with Tristan after controversial news about his alleged affair with his former personal trainer Maralee Nichols surfaced.
ADVERTISEMENT
Article continues below this ad
WATCH THIS STORY: A timeline of Khloe Kardashians' relationship with Tristan Thompson
Moreover, in January 2021, a paternity test also confirmed that Tristan Thompson was the father of Nichols' one-year-old son, Theo. After the shocking revelations, Khloe Kardashian finally shut out the former Cavaliers star romantically. In conclusion, Thompson finally sorted out the child support controversy involving Nichols quite recently.
Edited By: Jayant Chhabra