'176 Million of Security': NBA Veteran Gives His Take on Kawhi Leonard's Potential Free Agency
Published 06/30/2021, 4:03 PM EDT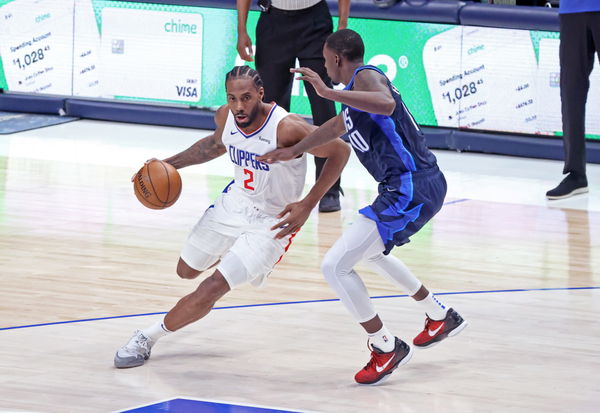 ---
---
Clippers star Kawhi Leonard needs no introduction. Leonard as a superstar was almost Terminator-like as he brought the Toronto Raptors their first championship in 2018-19.
ADVERTISEMENT
Article continues below this ad
However, his accomplishments do not just end there. Kawhi is a 3-time All NBA player, a 2-time champion, 2-time FMVP, and 2-time DPOY.
Along with having a killer mid-range game, shooting it at 49.3%, his nickname 'The Klaw' comes from the stellar defense. Kawhi is a defensive monster, with his most memorable defense coming against Giannis in 2019 and LeBron James in 2014.
ADVERTISEMENT
Article continues below this ad
While Kawhi's fate for the current Playoffs is still unknown, it is highly unlikely that even if he returns, he will win Finals MVP. Leonard, heading into his 11th season, with his 3rd team will eye a championship run next season.
He will be zeroed in on joining LeBron James as the only other player to win a championship and Finals MVP with 3 different teams.
Kawhi this season averaged 24.8ppg/6.5rpg/5.2apg in 52 games, shooting it at 51.2% from the floor and 49.8% from beyond the arc.
Destinations Galore for Kawhi Leonard –
Even though he has been out of the playoffs, no one in their right mind would pass on signing a franchise player like Kawhi. The Klaw went down in Game 4 at home against the Jazz in the second round, with a suspected ACL injury.
Clippers fear All-NBA star Kawhi Leonard has suffered an ACL injury, sources tell @TheAthletic @Stadium. He is out indefinitely.

— Shams Charania (@ShamsCharania) June 16, 2021
Although Leonard has a player option this free agency, whether he opts out for a bigger contract is yet to be seen. Sources in the league also believe that Leonard may continue on his current contract, as it may open up enough cap space to sign another free agent star.
Richard Jefferson on Leonard's options in FA
NBA champion turned ESPN analyst Richard Jefferson, on the Jump, today spoke about the situation surrounding the Klaw. Jefferson took his player-option, and the magnitude of his injury into consideration in his take.
He said, "If you have a knee injury that's keeping you out from the postseason and you're a free agent, you can sign a four-year deal and give yourself $176 million of security. That's where I'm going to lean, but everybody looks at it differently." 
However, Jefferson then commented on his ability to opt-out and either re-sign for a higher value or gain access to bird rights and 5-year max.
He said, "Well because this is the thing about the one-year deal that if you were to sign a one year good to get that fifth-year bird rights, right you don't know what's going to happen in that one year and if you're coming off something there's a possibility of surgery."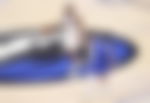 Kawhi's next chapter
ADVERTISEMENT
Article continues below this ad
Even though many believed that the LA Clippers' season was over when Kawhi went down, Paul George, Tyronn Lue, and the boys have proved otherwise.
And while what Kawhi may do this off-season remains unclear, it will be an incentive for him to stay depending on where the Clippers finally reach in these Playoffs without him.
Although, they must be cautious. If winning seasons were a criterion for Kawhi Leonard to stay with a franchise, he still would have been a Raptor!
ADVERTISEMENT
Article continues below this ad
Watch this story – Kawhi Leonard, Victor Oladipo, And Other Vicious Dunks In NBA 2020-21 Season