28 Year Old Star Crowned 'Draymond Green of Celtics' by Brutally Honest Steve Kerr
Published 05/31/2022, 10:30 AM EDT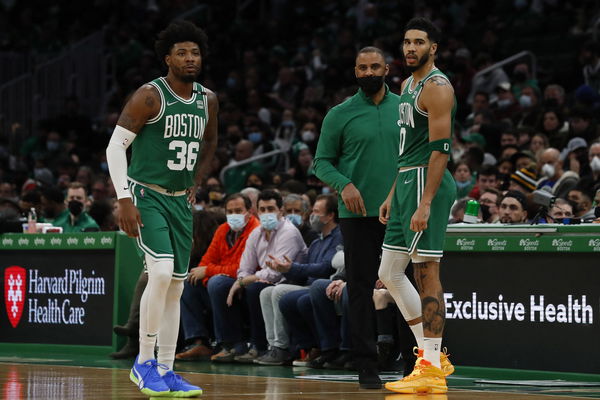 Draymond Green has been the defensive bedrock of the Golden State Warriors and without him, the team wouldn't have found the balance. Marcus Smart has played a similar role for the Boston Celtics, except his offensive production has also been great this season. Warriors coach Steve Kerr has given high praise to the shooting guard today.
According to Kerr, "His strength and his anticipation, he's got an incredible feel for the game at that end. He's like the guard version of Draymond. He's reading angles, he's guarding all five positions, if he switches on to a five man, he's so strong, he can hold them off."
ADVERTISEMENT
Article continues below this ad
Kerr mentioned that he's quick enough to chase point guards around and big enough to guard wings. Hence, he can literally guard 1-5 in the modern game. Kerr stated that he is appropriately named because he is a very smart player and really versatile and great, great defender.
Green is not a really flashy player offensively, but he has been rock solid for the team at the backcourt. Smart is very much similar to Draymond, in terms of the intensity and fearlessness they bring to the floor. Smart is 6'4 but has defended players who have a bigger frame than him.
He, along with Robert Williams and Jayson Tatum have made the Celtics' defense the best in the league. They have locked down the likes of Kevin Durant and Kyrie Irving, Giannis Antetokounmpo, and Jimmy Butler to take themselves to the NBA finals. It's not been an easy road for them, but Smart's defensive IQ has made it much easier. He became the first guard to win the Defensive Player of the Year since 1996.
Draymond Green and the Warriors: The Road Ahead
ADVERTISEMENT
Article continues below this ad
Draymond Green, and the Golden State Warriors have come back to the Finals after three years. Green has been reliable as always and is also on the leaders on the floor.
They have beaten the Denver Nuggets, the Memphis Grizzlies, and the Dallas Mavericks to earn their spot. They are considered the favorites in the Finals against the Eastern Champions Boston Celtics.
ADVERTISEMENT
Article continues below this ad
WATCH THIS STORY: When Did Millionaire Shaquille ONeal Get Divorced?
But, the Celtics have a penchant for not giving up, hence this will be an interesting series to watch for both the hardcore and casual fans.
Edited By: Arunaditya Aima