2x DPOY Dennis Rodman Honed His Skills by Studying Games of "Legendary Guys" From the 80s: "Magic Johnson, Larry Bird…"
Published 12/10/2022, 12:10 PM EST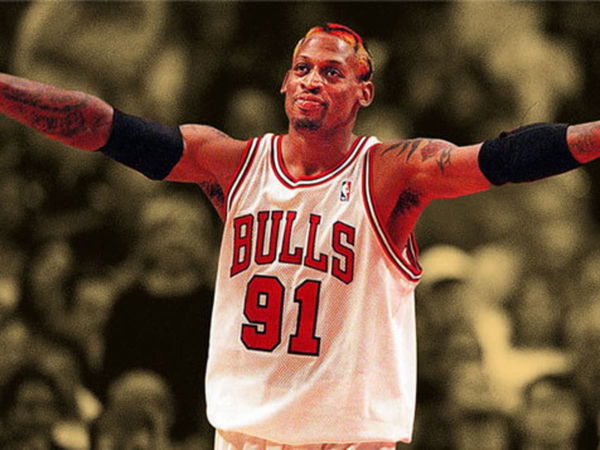 NBA Legend Dennis Rodman is renowned for his defensive ability. However, when Rodman came into the league, it was dominated by stars of the old and the new. Rodman quickly understood that he needed to make his mark by standing out from the rest. The two-time Defensive Player of the Year honed his skills by studying the legends of the game. Using it against them on the biggest stages of the NBA.
Rodman had all the attributes of a great defender, and he chose to become a specialist. He had a great motor when he came to the league but he needed another skill.
ADVERTISEMENT
Article continues below this ad
Dennis Rodman chose to study Magic Johnson, Larry Bird and other legends
The league was filled with talented stars, and the Worm had to figure out how to play defense against them. He said, "Larry Bird, Magic Johnson, James Worthy, all these guys, legendary guys"
"I had to get familiar with how they play, so I had to sit there and focus, focus, focus," he added.
He took defensive tactics with the utmost dedication and made it his craft. Dennis Rodman said a couple of years later, he had become a monster. He added, "I worked on defense every day for, like, a couple of years, man. And all of a sudden, I perfected it to the point where I knew how players were going to react to something"
Rodman enjoyed tremendous success
ADVERTISEMENT
Article continues below this ad
The results were spectacular as Rodman became one of the best defensive players in the league, and won two DPOY awards. He became an integral part of the 'Bad Boys' Detroit Pistons team, which made it to three straight Finals and won two titles in a row.
Later in his career, Rodman joined the Chicago Bulls with Michael Jordan and Scottie Pippen. That Bulls team was one of the greatest teams of all time, winning three titles in a row. Rodman's contribution to the team was invaluable. He later retired and went down as one of the greatest ever and one of the best defensive players of all time.
ADVERTISEMENT
Article continues below this ad
WATCH THIS STORY: Dennis Rodman, Kobe Bryant, Michael Jordan and other NBA stars who have featured in TV shows
Who are your favorite defensive players of all time? Let us know in the comments below.
Edited By: Jayant Chhabra