55 Year Old Adam Sandler Stunned to Learn Shaquille O'Neal's Age: "You're Not..!"
Published 06/04/2022, 6:30 PM EDT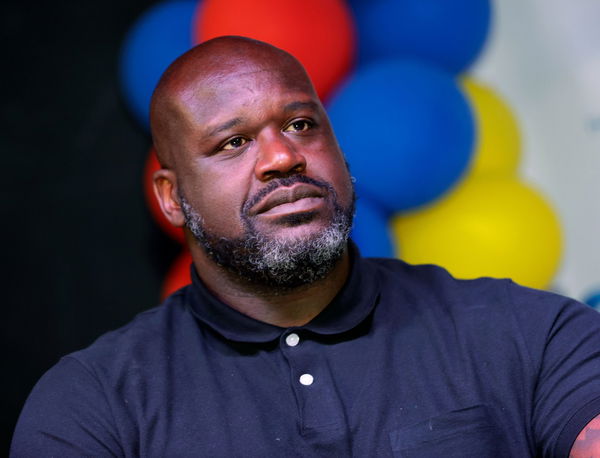 Adam Sandler was shocked to learn Shaquille O'Neal's real age. The veteran movie star appeared on the most recent episode of the Big Man's podcast to talk about his new Netflix movie. The conversation veered to age and Sandler was astonished to discover Shaq's real age.
Sandler and O'Neal have been friends for a long time. Sandler is a big fan of the Los Angeles Lakers. So, he used to go to Lakers games quite frequently to watch Shaq play.
In the late 90s and early 2000s, Shaq was the centerpiece of the Lakers organization and one of the most prominent figures in LA's social life. Therefore, he got the opportunity to get acquainted with a lot of Hollywood celebrities, including Adam Sandler.
ADVERTISEMENT
Article continues below this ad
Sandler has been a prolific actor and producer in Hollywood for a long time. His friendship with Shaq led to them working together in several movies.
Adam Sandler shocked to learn Shaquille O'Neal's real age
Sandler shared his experience of playing basketball with Shaq with Nischelle Turner and Spice Adams, the co-hosts of The Big Podcast with Shaq. After that, Shaq complimented Sandler on his fadeaway. Sandler took it humbly and admitted that he does well for a 55-year-old.
Meanwhile, Nischelle asked Sandler about casting Shaq in his upcoming movie The Hustle (2022), which features a lot of NBA players and Shaq's co-host from Inside the NBA Kenny Smith. Sandler accepted that it would've been a great idea, "Oh, that's true. That would've been incredible. You're right".
"I think it was my age. I'm so much older than Shaq. I'm 55", added Sandler. Shaq replied, saying that was not true. He is 50 years old himself.
"You're not 50!" Sandler was palpably shocked at the revelation. He clearly thought Shaq was much younger. The entire crew started laughing after seeing Sandler so surprised.
Shaquille O'Neal used to dye his beard white
ADVERTISEMENT
Article continues below this ad
Spice explained that the reason Shaq looks younger than his age is because he dyes his beard. Shaq vehemently rejected the theory. In fact, he said it's the other way round. He used to dye his beard white before to look older. Now he doesn't. The entire crew burst out laughing. Nischelle said, "You didn't make it white, Shaquille. You got older".
ADVERTISEMENT
Article continues below this ad
Watch This Story: Is NBA Legend Isiah Thomas married?
Sandler and Shaq talked about a lot of things from the world of basketball and movies. Sandler expressed how fun it is to work with Shaq and he wishes he could do that in every movie.
Edited By: Arunaditya Aima