76ers' Joel Embiid Posts Stats Similar to Michael Jordan and Steph Curry's MVP Season
Published 03/02/2021, 5:30 PM EST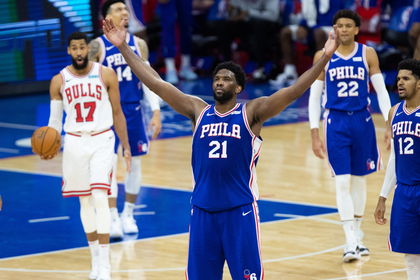 ---
---
It didn't take very long for Philadelphia 76ers' Joel Embiid to attach his name to the MVP race this season. The only question that springs to mind is whether he can beat LeBron James for this competitive award. When the MVP race started, Bron was on the top of the ladder, but after the past week, Embiid has taken over.
ADVERTISEMENT
Article continues below this ad
It isn't easy to pick the best performer with so many variables at play, including the team's success, individual performances on both ends of the floor, and the preference of the voted. These are what we know, but Paul Hembekides from ESPN has noticed an uncanny pattern for the MVP award as well.
The stats that will make Joel Embiid the MVP
ADVERTISEMENT
Article continues below this ad
After a lot of struggles last season, the Philadelphia 76ers revamped their entire front office in an effort to start afresh. This included bringing in Daryl Morey as president of basketball operations and hiring Doc Rivers as the new head coach was their shot at making them contenders.
However, those weren't the only changes they made. They brought in some great shooters to fill in their awkward starting lineup to help Ben Simmons and Embiid with spacing. Since then, Embiid has only thrived. Just halfway through the season, the big man is averaging 29.8 points, 11.3 rebounds, and shooting 52.1 percent from the field.
Until now, this just seemed like his career-high performance, but Paul has shed light on something more fascinating. Hence, making a unique case for Embiid's run for MVP. He posted on Twitter that players like Michael Jordan, Stephen Curry, and Kevin Durant all won the MVP award in their respective years when they were averaging 30 points per game and shooting 50% from the field.
30 PPG on 50% shooting
(last 5 instances):

2020-21 Joel Embiid

2015-16 Stephen Curry
(won MVP)

2013-14 Kevin Durant
(won MVP)

1991-92 Michael Jordan
(won MVP)

1990-91 Michael Jordan
(won MVP)#HereTheyCome

— Paul Hembekides (@PaulHembo) March 1, 2021
What is the status of the other contenders?
The way Embiid is bringing in success for the Sixers so far with a 23-12 record, it's no surprise that he has landed the top spot. Bron, who was initially on top in the race, has slipped down to the second position. This was probably after Anthony Davis' absence from the lineup that caused them to lose four consecutive games.
ADVERTISEMENT
Article continues below this ad
It is Nikola Jokic who has made a considerable jump from the fifth spot to the third, pushing the Blazers' Damian Lillard down to the fifth spot. Steph Curry remains fourth in line.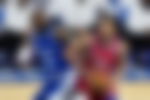 Although unlikely, there is also a real chance that someone else other than Embiid and LeBron James might take this prestigious award home. With so much of the season still left, who do you think is still missing from this list?
ADVERTISEMENT
Article continues below this ad
Read also- NBA Analyst Backs LeBron James as MVP Frontrunner, Says Has Not 'Hurt His Case' Despite Lakers' Four-Game Skid