76ers vs Nuggets: Tyrese Maxey Matches Legend Allen Iverson with Historic Performance
Published 01/09/2021, 6:29 PM EST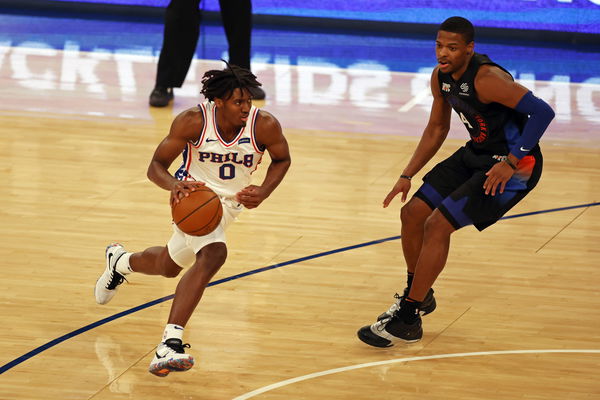 ---
---
The Philadelphia 76ers' blockbuster game against the Denver Nuggets was hindered as COVID-19 restrictions and injuries forced the Sixers to list only seven players for the fixture. On a night that demanded a hero, we saw one in 20-year-old rookie Tyrese Maxey. 
ADVERTISEMENT
Article continues below this ad
Maxey put up an impressive  39-point performance and won the respect of the Sixers camp and the fans despite it coming in a losing cause. The Kentucky alum also marked his name in the NBA's and Philly's history books with his effort.
Tyrese Maxey ends the burden of Philadelphia 76ers legend Allen Iverson
ADVERTISEMENT
Article continues below this ad
The Sixers have drafted some great talents in their history, and the list is ever-growing. However, none of them have been able to match the impact that Allen Iverson created in 1996, except for Tyrese Maxey who attained a massive feat in his first start for the team. 
Maxey ended the game with 39.0 points and shot 54.5% from the field and became the first Philadelphia 76ers rookie to have more than 35 points since Allen Iverson. Hence, it is now an honor to hold on for Maxey and keep producing these performances when the team needs them. 
He's now the first Sixers rookie since Iverson to get more than 35 points, but 'AI' scored once dropped fifty points in his debut season, but no pressure at all, Maxey!
Maxey brought up a unique stat in the game that went down as a record
Furthermore, Maxey also etched his name in another record as he attempted zero field goals during the game. His 33 shot attempts without taking an FT is tied for the most attempts taken over the last 15 seasons in the NBA! It also happened to be the most points accumulated by a rookie in his first start since 1970! 
ADVERTISEMENT
Article continues below this ad
Quite an eventful game for Tyrese Maxey as a string of complications left the Sixers with a weakened lineup. He used his platform to shine, and Doc Rivers would've taken note of his talent to deliver when no else does. 
The 76ers complied with the harsh decision of playing the game with just seven active players, but the league is looking to balance the fixtures and complete them without unavoidable postponements. Hence, such instances can be expected in the future as well. 
Philly will look to resurrect from their sudden roadblock and get back to winning ways in their next game against the Atlanta Hawks. They're now placed second in the Eastern Conference and will face a challenging schedule ahead. 
ADVERTISEMENT
Article continues below this ad