7-ft Giant Shaquille O'Neal, Who Mirrors Jackie Chan and Tom Cruise in Movies, Revealed $800 Million Star Inspired His Hollywood Dream
Published 09/24/2022, 8:30 AM EDT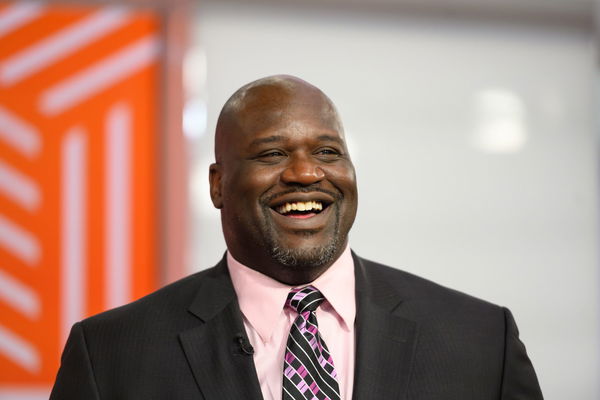 NBA legend Shaquille O'Neal has been starring in Hollywood movies for some time now. He has been in the spotlight since 1994 and he has rivaled legendary actors such as Jackie Chan and Tom Cruise by doing his own stunts. But he revealed the real reason he wanted to be an actor was because of an $800 million worth star who also happens to be a WWE legend.
Shaq has been doing movies ever since he entered the league. He starred in his first movie in 1994 and in 1996, he even played a leading role in the movie 'Kazaam'. And in 'Steel', Shaq became one of the first Black actors to be cast in a superhero movie. And he even did his own stunts in the movie, similar to Cruise and Chan.
ADVERTISEMENT
Article continues below this ad
Shaquille O'Neal says he wants to be like 'The Rock'
Even today, Shaquille O'Neal has several shows and movies in production. He recently was part of the Oscar Winning short movie 'The Queen of Basketball'. And he was even part of the 'Uncle Drew' movie, which also starred NBA players like Kyrie Irving. And Shaq has high aspirations for himself.
ADVERTISEMENT
Article continues below this ad
The Los Angeles Lakers legend said he wanted to big as 'The Rock'. Dwayne Johnson is arguably the biggest movie star on the planet and Shaq wants to reach those legendary heights. Shaq said, "We come from the same place: athletes that transition. That's my goal. I want similar type movies, I want to get thrillers, I want to get dramas, I want to do comedies, I want to be the next Rock. I want to do a thriller where I'm like a hero and beat up all the bad guys."
WATCH THIS STORY: Shaq once spent a million dollars in front of Mike Tyson
The Big Diesel has a couple of TV series in production currently and is in the midst of planning the annual event for his foundation. Shaq has set the bar really high for himself. But he seems to be raring to go for it and he has shown in the past that he is willing to put everything on the line. He may still have some ways to go catch 'The Rock', who is a global superstar today. But as always, Shaq is ready to put in the work.
ADVERTISEMENT
Article continues below this ad
Do you think Shaq will feature more in Hollywood movies? How do you think he will do? Share your thoughts in the comments below.