$84 Million Mistake From Forgotten NBA Star Called Out by Fans as He Gets Celtics Tattoo on His Leg
Published 05/31/2022, 11:30 AM EDT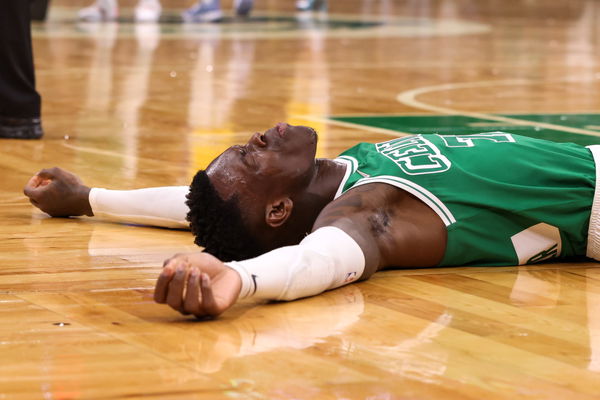 NBA players show love to their former teams most of the time. Some of them had great memories, while others miss their old teammates. But being part of a championship team is something that every player would remember for the rest of their lives. Such was the case with one of the Rockets' players.
ADVERTISEMENT
Article continues below this ad
The Boston Celtics have finally made it to the NBA Finals after struggling in the East Finals 3 times in the last 5 seasons. It was a great season for Tatum and company. But one player who was a part of this championship team for a while was traded in February. But he never lost respect for the Celtics.
ADVERTISEMENT
Article continues below this ad
Dennis Schroder gets a Celtics tattoo on his leg
Schroder joined the Celtics for the 2021-22 season. He played about 49 games for Boston and was a key role player for the team. He averaged 14 points, 3 rebounds, and 4 assists. For Dennis, this was just an average season.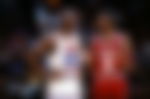 After being traded to the Rockets in February, he injured his shoulder and was ruled out for the remainder of the season. But when the Celtics won the East, Schroder had nothing but respect for his former squad as he got himself a Celtics tattoo on his leg. Fans on Twitter reacted to Dennis' tattoo.
Ion know why they let go of him man. Bro was scoring 30

— Delusional Melo Fan (@DelusionalMe7o) May 31, 2022
He's literally not on the team 😭

— Tito (@titoramirez99) May 31, 2022
Bring him back next year ngl

— CELTICS IN 7🍀🍀🍀 (@Bsmith0445) May 31, 2022
Bro think he still on the team 😭

— 💜 §åïñ† ¢år†êr 🇨🇦 (@Saintwestlol) May 31, 2022
Schroder had spent most of his career in Atlanta where he played the best seasons. Dennis is still a great backup scorer. He would've been part of this championship team, had he not been traded. The Rockets are his fifth NBA team that he's played for. His former team has finally been crowned the kings of the East, but it would be much more exciting to see them win it all.
ADVERTISEMENT
Article continues below this ad
Will the Celtics prevail in the NBA Finals?
The Celtics are going up against the Warriors who have played 5 Finals in the last 8 seasons. The young Boston roster seems highly confident and motivated for the challenge and will give the Dubs a tough time. The Finals tipoff on Thursday as the Warriors will host the Celtics in game 1.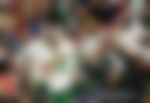 It will be interesting to see this young team go up against a team that is experienced in playing championship basketball. Who do you think will prevail? Do let us know in the comments.
ADVERTISEMENT
Article continues below this ad
WATCH THIS STORY: Oldest NBA Player Lashes Out at Draymond Green for Aiding Shaquille O'Neal in "Disrespectful" Act: "You Ain't Supposed To Say Some Sh*t Like That"
Edited By: Pritam Priyedarshi