A Brief History of Michael Jordan Jerseys and the Interesting Stories Behind Them
Published 01/20/2021, 10:30 AM EST ---
---
In Soccer, it's Messi (#10) and Ronaldo (#7); in NFL, it's Peyton Manning (#18) and Tom Brady (#12); and in NBA, it's Michael Jordan (#23) and Kobe Bryant (#24). Well, this is not an exclusive list, but it surely proves that certain figures stick more than other digits in the ocean of jersey numbers. 
ADVERTISEMENT
Article continues below this ad
Talking specifically about MJ, the legend is solely responsible for popularising #23. The Chicago Bulls retired the number after MJ's exit from the team and deservingly so. But there is a lot to those jerseys than an average fan knows. 
Michael Jordan preferred different numerics on his jerseys
ADVERTISEMENT
Article continues below this ad Hard to believe, but MJ's first choice was #45. However, the fact that his older brother Larry also preferred the same number, MJ had to dump the idea of owning it. MJ then used simple math to deduce another number. He divided 45 by two and rounded it up for 23. 
He made a debut in that number during his varsity season for Laney, where he averaged a double-double. The following season, he bettered it to a triple-double and fixed himself a spot in McDonald's All-American Team. During his extremely successful college years, MJ wore a powdered blue jersey and won the Naismith College Player of the Year in 1984.
In his rookie year with the Chicago Bulls, Jordan donned two of the franchise's "original Bull" jerseys that they discontinued the same year. This marked the new era for the Bulls.
The Chicago Bulls and the iconic #23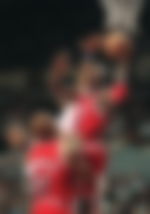 In 1985, the Bulls brought in a new design with more overpowering fonts and a roaring red color. They continued these jerseys for decades to come. MJ made them popular during the 1986 playoffs when his desperation to play forced Bulls Chairman Jerry Reinsdorf to allow him even with the injury. Fortune favored the brave, and MJ scored 63 record-setting points. 
Bulls' home jerseys' color combination was just opposite to their away jerseys'. It all looked eye-pleasing and aesthetically great. 
When something strange happened Before a February 14, 1990, game against the underdogs Orlando Magic, someone stole MJ's jersey. Just 90 minutes prior to the game, someone thought it was a great idea to enter the locker room and take away #23. As a result, MJ had to settle down for a nameless #12 emergency jersey. 
That day, the Bulls lost 129-135 where an angry MJ scored 49 points.
The Dream Team jersey
Arguably the best team ever, the Dream Team gave the USA Olympics its most dominant memories. Herein, MJ donned a #9 jersey and played alongside the other greats in the game. He led the Dream Team in the number of steals and also enjoyed the second-highest scoring average, after Charles Barkley's 18. 
Michael Jordan and his jerseys' detour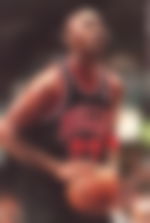 In 1993, after the sad demise of his father, MJ was shattered. This forced him to announce an emotional early retirement. He then joined the Birmingham Barons to play Minor League Baseball. This is when he finally chose his nostalgic love, #45, and played a season full of hits and misses. 
Next up, he wore a rather funny jersey for his role in Space Jam (1996).
The beginning of the end of Michael Jordan era
ADVERTISEMENT
Article continues below this ad
The Bulls' best season ever, 1995-96 witnessed them dominate with a 72-10 record. MJ wore classic black and red pinstripe jerseys that season. These became the highest-selling jersey in those times. Still, they switched to plain black jerseys in the coming seasons just as they strangely dismantled a winning combination in 1998.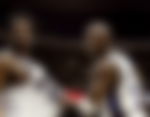 After that, the world saw MJ retiring and coming back from retirement to play for the Wizards in those Blue and White jerseys, still sticking to #23.
ADVERTISEMENT
Article continues below this ad
Do you think #45 would have been luckier for MJ? Help us know your opinion in the comments.