'A Level of Concern': NBA Insider Gives Worrying Update on 76ers' Joel Embiid's Injury
Published 06/01/2021, 11:23 PM EDT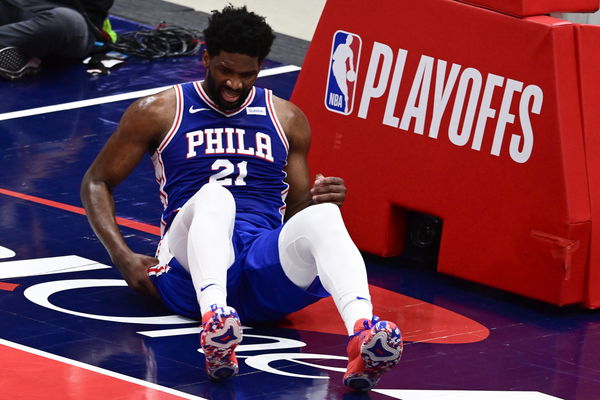 ---
---
The 76ers were one team that was surely expected to have a clean sweep against the Washington Wizards. The logic was clear since Philly is one of the best teams in the league right now leading the Eastern Conference, and the Wizards had to fight vigorously to make it to the playoffs. So losing Game 4 to Washington came as a big blow, and what's worse is that their star player Joel Embiid was also injured.
ADVERTISEMENT
Article continues below this ad
Joel Embiid doubtful for Game 5
Game 4 was the first one that the 76ers dropped in the first round of the playoffs. Naturally, this caused hysteria amongst fans, but nothing was worse than losing Joel Embiid so early in the game.
ADVERTISEMENT
Article continues below this ad
One of this year's MVP candidates, Embiid, took a hard fall in the first quarter and was seen heading into the locker room. After missing the entire second quarter as well, he was eventually benched for the remainder of the game. Although it felt like it was a back injury, he was ruled out because of knee soreness.
And now that he has been listed as doubtful for Game 5, fans are worried about the Sixers. Was this just a small bump in the road? Or will this be the golden opportunity for the Washington Wizards to rally back?
WATCH THIS STORY: Gambling Problems, Humiliated by Detroit Pistons & Other Things Michael Jordan Would Want Fans to Forget
Can the Philadelphia 76ers weather the storm?
With Game 5 around the corner, analysts are speculating what Embiid's absence would mean for the Philadelphia 76ers. However, nobody knows the matter as much as NBA insider Brian Windhorst who is covering this series.
He revealed, "I was on with the players and coaches last night and I can tell you that there was a level of concern about Embiid." Brian agreed that this team has played without Embiid before but also stated, "But if he's not back where he needs to be, they're not winning the Eastern Conference."
ADVERTISEMENT
Article continues below this ad
Windhorst is still hoping that this injury is only minor because the Sixers have worked so hard to get here. He is certain that with Embiid, this team is easily the one gearing up for the conference finals. But Embiid emphasized the importance of the MRI, which can give a clearer picture.
Do you think the 76ers only have trouble ahead without Embiid? Or can they hold the fort until he comes back?
ADVERTISEMENT
Article continues below this ad