Aaron Gordon Breaks Silence on His Reasoning Behind Deciding to Leave Orlando Magic
Published 03/24/2021, 10:51 PM EDT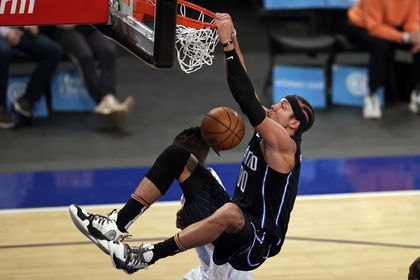 ---
---
Aaron Gordon created a stir in the NBA trade market when the news of him wanting to opt-out of the Magic surfaced. Now, almost suddenly, at least six NBA teams are interested in the 6'8" forward player.
ADVERTISEMENT
Article continues below this ad
The Flying Dutchman entered the league in 2014 when players like Andrew Wiggins, Joel Embiid, Zach LaVine, and Julius Randle started their careers. Ever since then, he had stuck with the Magic as a franchise face, but now, he is looking for a change.
Aaron Gordon and his reasoning behind the demand
ADVERTISEMENT
Article continues below this ad
The 25-YO player has had a tough outing for the Magic. His picture-perfect smiling face from the day when Adam Silver shook his hands to welcome him into the league has since washed away. And why not? The Magic have had a strenuous stretch ever since he entered the post-Dwight Howard squad. 
In a recent interview, the honest Aaron gave straightforward reasoning behind deciding to move on.
He detailed, "There's been times where I just expressed my frustration to management. Frustration with the losses, the injuries, the way we've been playing, and how many losses have accumulated over the years. So it's just my frustration kind of boiling over, I would say… I think a lot of people share that sentiment with me, of frustration."
After Aaron joined them, the Magic qualified for the postseason just twice and lost in the first round on both occasions. They've lost more than they've won in all these years, and 2020-21 is no different.
Read Also – Five NBA Players Who Deserve More Respect for their Talent: Damian Lillard, Devin Booker & Others
The teams that are hunting for the star
In his tenure with the Magic, Aaron has played under four coaches, seen the front-office failing at making good trades, and found his name in trade talks.
ADVERTISEMENT
Article continues below this ad
Still, the NBA Dunk Contest fame, maybe because of the CBA or because of his personality, never vocally expressed his request for trade publicly. In fact, in the same interview, he said, "I'm focused on (Wednesday) night. As of right now, I'm an Orlando Magic. I've been here for seven years, developed a home here, a sense of love and community here. For as long as I have Orlando on my chest, Magic on my chest, I'm going to give it everything I have."
Now, the chances are that Magic will delay the trade until the very last minute to get the best deal. Notably, teams like Celtics, Nuggets, Warriors, Blazers, Timberwolves, and Rockets would like his services.
Aaron Gordon is a finisher and has the capability to cut through the strongest of defenses. His average of 14.6 points can also improve if he has some stronger names to play alongside.
ADVERTISEMENT
Article continues below this ad
Where do you think the star would go? Help us know in the comments.