Aaron Gordon, Rajon Rondo & More: Top 10 Trades of the NBA Deadline
Published 03/26/2021, 12:46 AM EDT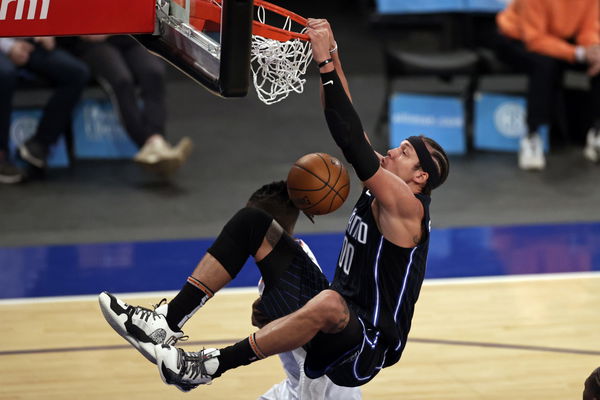 The trade deadline finally concluded with a plethora of deals going through. While teams like the Magic and the Rockets were clearly the sellers heading to the deadline, given how competitive the playoff race has been, multiple teams were looking for upgrading their roster.
ADVERTISEMENT
Article continues below this ad
The deadline saw a total of 17 moves. Take a look at the top 10 moves this deadline.
10) Nuggets acquire veteran center JaVale McGee
ADVERTISEMENT
Article continues below this ad
The Denver Nuggets started off the deadline with a great move by adding a rim-protector and veteran shot-blocker in JaVale McGee. Ever since his debut, Isaiah Hartenstein had struggled with the Nuggets and rarely had a chance to prove his worth for the team.
Denver is acquiring center Cleveland center JaVale McGee for Isaiah Hartenstein and two future protected second-round picks, sources tell ESPN.

— Adrian Wojnarowski (@wojespn) March 25, 2021
This deal is a win-win for both the teams. The Nuggets finally get a solid center who can protect the rim and can give an additional element to the Nuggets' defense.
In Hartenstein, the Cavs will get a young center desperate for minutes, and if he can develop, the Cavs can have a promising front-court of Jarrett Allen and the German Hartenstein.
9) Miami Heat add Kings' forward Nemanja Bjelica
The Miami Heat were seeing a dismal front-court display lately. Apart from Bam Adebayo, the Heat were seeing a major drop off from Kelly Olynyk who was inconsistent from the perimeter.
Enter Kings' forward Nemanja Bjelica. After starting for the Kings last year, the 32-year-old was stripped off of his starting role this season. His output certainly saw a drop-off, and he was understandably frustrated.
Given his impressive numbers from the deep, this seems like a great pickup by the Heat. Giving up two rotational pieces for Bjelica could prove to be a steal for Miami.
8) Philadelphia 76ers add guard depth by trading for George Hill
The 76ers had a rather quite deadline today. After constantly being linked to Raptors' Kyle Lowry, the 76ers moved off of the deal. They rather focused on another solid guard in George Hill, who is also a great shooter.
Philadelphia is acquiring OKC's George Hill for Tony Bradley, Terrance Fergusson and two future second-round picks, sources tell ESPN. Austin Rivers goes to OKC as part of a three-way deal.

— Adrian Wojnarowski (@wojespn) March 25, 2021
The one position that the 76ers lacked some depth in was the guard position. The arrival of Hill not only adds more three point shooting but also gives more options to Doc Rivers off the bench.
Giving up two young players might seem like a bad deal, but considering the output the 34-year-old brings to the table, the 76ers should be satisfied with the deal.
7) Dallas Mavericks finally add a capable shooter in JJ Reddick
The Dallas Mavericks made a questionable move in the off-season by trading their star shooter Seth Curry for Josh Richardson. While Richardson has been solid, the Mavs dearly missed Curry's three point shooting and thus the drop in offensive rating as well.
Sources: Dallas sent James Johnson, Wes Iwundu and a second-round pick to New Orleans to acquire JJ Redick and Nicolo Melli.

Mavericks acquiring two shooters to bolster their depth. Pelicans receive a gritty veteran forward in Johnson, young player and draft asset. https://t.co/WaVX3BKh6T

— Shams Charania (@ShamsCharania) March 25, 2021
The Mavs saw a perfect opportunity in JJ Reddick in the deadline. Reddick, who is having a bad year with the Pelicans, is one of the finest shooters in the league. Dallas will hope that he can regain his form in a new setup.
Bringing him in might have cost the Mavs some decent players like James Johnson and Wes Iwundu, but considering the three point threat Reddick adds, it might be worth it.
6) Los Angeles Clippers finally trade for Rajon Rondo
Going into the off-season, the Los Angeles Clippers were expected to sign a point guard and were heavily linked to Rajon Rondo and Chris Paul. With the team failing to land either Paul or Rondo, the Clippers continued to play without a proper point guard.
Clippers are finalizing a deal to acquire Rajon Rondo from Atlanta for Lou Williams, two second-round picks and cash, sources tell me and @sam_amick.

— Shams Charania (@ShamsCharania) March 25, 2021
With the deadline, the Clippers finally seized the opportunity to trade for their longtime target, Rajon Rondo. Rondo's numbers have fallen off a cliff due to limited minutes. With the Clippers, he will have a chance to challenge for the title once again.
The Hawks, meanwhile, got a solid scorer off of the bench with Lou Williams, who is finally back home.
5) Boston Celtics pull off a steal by trading Evan Fournier
The Boston Celtics yet again didn't make a statement trade before the deadline. They might not have made a big name trade like Aaron Gordon, but they did pull off a surprising deal by bringing in Evan Fournier.
The Magic will receive Jeff Teague and two second-round picks from the Celtics to complete the Evan Fournier trade, league sources tell @JaredWeissNBA and me. Teague has been told he doesn't have to report to the Magic and will be waived by the Magic, per a league source.

— Josh Robbins (@JoshuaBRobbins) March 25, 2021
The Magic guard is having a great year statistically and can easily run the floor. Initially, Boston only gave up two second round picks for the Frenchmen.
Later, they added Jeff Teague, who was eventually waived off by the Orlando Magic. Fournier can be a great scorer off of the bench and can be the potential steal of the deadline.
4) Portland Trail Blazers acquire lights out shooter Norman Powell
Going into the deadline, the Raptors were clearly big-time sellers. Two names were constant in rumors; Kyle Lowry and Norman Powell. While Lowry has been a solid contributor for some time now, Powell has really come into his own this season. He is averaging 19.6 points, 3.0 rebounds and 1.8 assists per game, shooting 43.9% from the three point line.
Toronto has traded Norm Powell to Portland for Gary Trent and Rodney Hood, sources tell ESPN.

— Adrian Wojnarowski (@wojespn) March 25, 2021
He is the league's third best three point shooter, only behind Joe Ingles and Joe Harris.
Given his impressive form, a move for Powell seemed like a no-brainer. Despite initial interest from Brooklyn Nets, the Blazers pulled the trigger in a Powell deal.
The Blazers are giving up two solid players in Gary Trent Jr, who is enjoying a career season, and a great veteran in Rodney Hood. But if Powell can maintain his electrifying form as a shooter and adjust in the Lillard and McCollum backcourt, the Blazers will arguably have the scariest backcourt in the league.
3) Denver Nuggets finally add a forward by trading in Aaron Gordon
The Denver Nuggets made a bizarre move this off-season as they let go of forward Jerami Grant. With Grant gone, the Nuggets suffered both offensively and defensively this season. A forward was a must for them in the deadline.
Despite the Celtics being favorites to sweep him in, the Nuggets pulled off the trigger on an Aaron Gordon trade. The 6'9″ forward is the perfect answer for them as the starting forward.
With his amazing defensive skills and his underrated offense, Gordon is a much-needed upgrade in the starting lineup. The Nuggets also got Gary Clark, who might remain as a rotational player.
The Magic, meanwhile, got a promising player in Gary Harris who can flourish as the main guy in a team. Apart from that, they also got electrifying guard RJ Hampton and a first-round pick. The trade seems like a great deal for both the teams.
2) Miami Heat trade for disgruntled Rockets' star Victor Oladipo
Miami Heat being interested in Victor Oladipo was an open secret. Reports had emerged that the 2-time All-Star was interested to sign with the Heat in next season's free agency. The Heat seriously lacked some depth in their guard position.
They were initially linked with Kyle Lowry and reportedly were the favorites to pull off the trade. But the Heat backed out at the last moment and picked up Oladipo instead. If one looks at the deal, it's clear why they backed out.
Sources: Houston traded Victor Oladipo to Miami for Avery Bradley, Kelly Olynyk and a draft swap.

— Shams Charania (@ShamsCharania) March 25, 2021
The Heat only gave up Avery Bradley, Kelly Olynyk, and a draft swap for Oladipo. Bradley has been practically out of the rotation with injuries for nearly two months, while Olynyk has been massively inconsistent whenever on the floor.
The fact that Houston didn't demand a young player like Tyler Herro, Duncan Robinson, or Kendrick Nunn is absolutely shocking. The Heat have pulled off a gem of a move to land Oladipo without practically losing a key player.
1) Chicago Bulls make a statement signing by trading for All-Star Nikola Vucevic
The Chicago Bulls are a team that has clearly been a surprise package this season. Guard Zach LaVine has broken out under new head coach Billy Donovan, and the Bulls are back in the playoff mix.
Here's the deal: The Bulls land Nikola Vucevic and Al Farouq Aminu for Otto Porter, Wendell Carter Jr., and two first-round picks. Huge addition for Chicago, who remains in pursuit of Lonzo Ball. The Magic are moving toward a rebuild now with Aaron Gordon deal on deck.

— Adrian Wojnarowski (@wojespn) March 25, 2021
The Bulls did require a second scorer to support LaVine and could use an upgrade in the front-court. Enter Nikola Vucevic.
ADVERTISEMENT
Article continues below this ad
Despite earlier reports suggesting that the big man was not for sale, the Magic certainly were waiting for the right offer in the deadline.
The Bulls didn't disappoint. They sent a promising young center in Wendell Carter Jr. who has the potential to be a franchise player, a solid forward in Otto Porter Jr. who can have some great performances and two first round picks. The Bulls in return got Nikola Vucevic and rotational forward Al-Farouq Aminu.
The trade deadline did see its fair share of surprising moves, but some of the biggest names like Kyle Lowry and Lonzo Ball were not moved. NBA fans should not be disappointed, however.
ADVERTISEMENT
Article continues below this ad
There are some very big names in the buyout market who can increase any roster's quality. Will the contenders like the Nets and Lakers sign a player who can instantly change the championship race or will a surprise team take some of their targets away?
Whatever happens, the NBA certainly will not disappoint.