'Absolute Monster': LeBron James Expresses Admiration for NBA Legend Larry Bird
Published 02/12/2021, 9:17 PM EST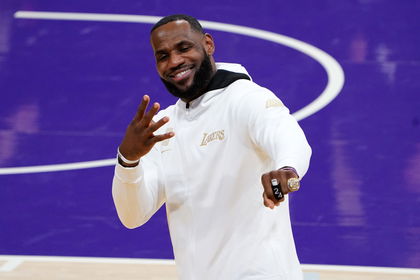 ---
---
As they say, Larry Bird's only weakness in Basketball was that he could not fly; the legend took care of everything else. The Hall of Famer played 13 seasons in the NBA and made at least 13 million fans around the world. Lakers' LeBron James is one of those who vocally accepts that he is enamored of Larry's artistry. 
ADVERTISEMENT
Article continues below this ad
Recently, Twitter did what it does the best, mining an old clip and making it go viral. Interestingly, the clip was from the legendary College Basketball coach Nolan Richardson's Hall of Fame speech about Larry Bird.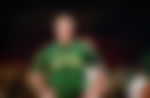 LeBron James reacted to the extremely funny clip
ADVERTISEMENT
Article continues below this ad
It was during the 2014 Hall of Fame induction ceremony when Nolan revealed the day he first heard about Larry. He remembered, "I'll never forget I'm driving and listening to a game. It's New Mexico playing Indiana State. I don't care about the game, but New Mexico street was right up to streets from El Paso, and we're big rivals. So I'm hoping India State beat New Mexico." 
Mr. Nolan is the same coach who helped the Razorbacks beat Duke for the championship in 1994. So he really cared about every happening in college basketball.
He added, "I'm listening to the radio and I have no clues on players on either team… this name keeps coming, 'Bird, he scores to the right, Bird, he makes the swap, Bird', I said goddamn who's Bird? 'Bird, Bird this, did you see the pass that Bird made?', I can't see it, but I'm just trying to imagine it. By the time I Got, and I said, damn that brother can play. When I got the newspaper the next morning and saw Larry's picture, I said damn!"
Just as Dwyane Wade retweeted this video, LeBron James also reacted by saying –
🤣🤣🤣🤣🤣🤣!! That's INCREDIBLE!! And Larry Legend was a ABSOLUTE MONSTER!!! love his game so much!! IQ insane and passion about just playing winning basketball was through the roof! RESPECT beyond he even knows https://t.co/vnZPREm0zW

— LeBron James (@KingJames) February 12, 2021
What made Larry Bird such a special hoopster?
Be it Magic Johnson or Bill Russell, everyone clapped at the story as Larry Bird laughed like a baby hearing it. Such reactions from legends can only come for a genuine star.
ADVERTISEMENT
Article continues below this ad
Larry, unlike Dwyane Wade or LeBron James, was not a very athletic player with a Herculean physique; he was just a student of the game. The 6'9" forward's smart mind and the study of the game helped him achieve wonders in the 80s.
Sure, that decade mostly belonged to the Lakers, but Larry helped the Celtics win three championships. He obviously played against Michael Jordan too and ended his career with an average of a double-double in points and rebounds.
He was something special. Unfortunately, he came in late and left early because of a back issue in his final year. But his playing career left us tons of memories to cherish.
ADVERTISEMENT
Article continues below this ad
Read Also – 'Wasn't Jumping Over A Telephone Book'- Former Champion Breaks Down How Larry Bird Dominated the League