'Acting Like Brats': Former Lakers Teammate Reveals the Crux of Kobe Bryant and Shaquille O'Neal Rivalry
Published 08/31/2021, 1:30 PM EDT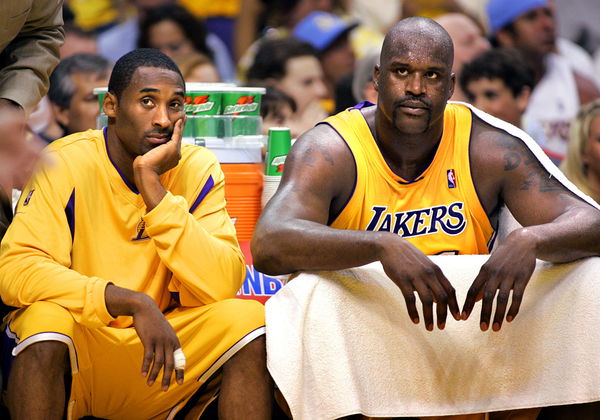 ---
---
Super teams can be a very touchy topic to discuss. With the current Lakers building one of their own this offseason, one can't help but remember the first time that such a star-studded roster was formed in the franchise. It is safe to say that it was the 2003-04 Los Angeles Lakers that last showed us this much talent.
ADVERTISEMENT
Article continues below this ad
Of course, some even believe that it was the first super team out of many, but that's a discussion for another day. However, having such star power didn't mean there weren't any problems. And we all know the Kobe Bryant – Shaquille O'Neal feud was still at its peak then. Over the years, many people part of the organization have spoken up about their beef and now Gary Payton has as well.
Gary Payton gives a different outlook on the Lakers infamous beef
ADVERTISEMENT
Article continues below this ad
At the time, the purple and gold squad had four future Hall of Famers in Karl Malone, Kobe Bryant, Shaquille O'Neal, and Gary Payton. Although they lost to the Detroit Pistons this season during the NBA Finals in five games, they're all still considered a deadly mix. Of course, Kobe and Shaq's rivalry was the talk of the town then and will be for decades to come.
So, in a recent interview with David Samson, Payton spoke facts about their situation back then. He stated, "When we got into the season, it was a little bit different. I had heard about all the tension between Shaq and Kobe, wasn't really like that. It was just that, you had two brothers, who was a bigger brother and little brother, and they were competitors.
"One wanted something out of the other one, and the other one something out of this one. And they were acting like brats. That's all it was. The big brother wanted the little brother to respect him. The little brother didn't want to do it, but it was okay."
WATCH THIS STORY: Looking Back At Shaquille O'Neal and Dennis Rodman's Most Heated Face-off's
ADVERTISEMENT
Article continues below this ad
Payton and Karl picked sides?
Further on, Payton explained that when he and Malone entered the equation, they acted as the uncles to these brothers. While Karl took Shaq under his wing, Gary did that with Kobe. Eventually, the latter formed a beautiful friendship.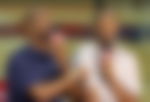 In fact, Gary believes that this helped the four of them at least come together on the court, no matter what was going on off of it. Well, yes, the one very commendable aspect of their rivalry was that it hardly affected their quest in creating the legacy they did for the franchise. Looks like Gary and Karl are the ones to thank for.
ADVERTISEMENT
Article continues below this ad