After Commending LeBron James' Longevity, Kevin Durant Hopeful About the King's Biggest Dream: "Watching Him Since He Was 2, 3 Years Old"
Published 03/18/2023, 1:10 PM EDT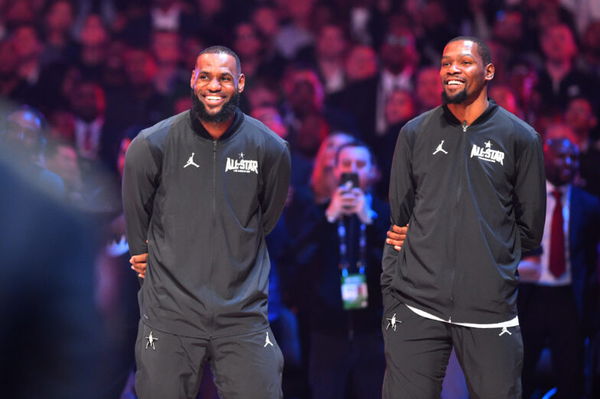 NBA superstar LeBron James has been sidelined with a foot injury for the past few weeks and has missed the last ten games for the Los Angeles Lakers. James has been struggling with intermittent injury layoffs in the last few seasons. However, at 38, he is still playing at the highest level whenever he is on the floor and is averaging close to 30 points per game. Recently, Kevin Durant had some things to say about the durability James has shown in the league, while addressing the King's dream in the remainder of his career.
It is no secret that the four-time NBA champion wants to play alongside his son in the league. However, there have been doubts if Bronny James is good enough to play in the premier league.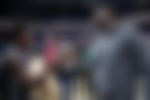 These doubts were recently squashed when ESPN ranked Bronny as the potential 10th pick in the 2024 NBA draft. NBA superstar Kevin Durant was recently asked about this during a recent podcast appearance.
ADVERTISEMENT
Article continues below this ad
Kevin Durant on Bronny playing alongside LeBron James 
Kevin Durant recently made an appearance on The ETCs Boardroom podcast. The two-time NBA champion is known to give his honest opinion in the calmest way possible. And that was the case in the latest show as well.
While talking about the mindboggling longevity of LeBron James, Durant was asked about Bronny being predicted to go as high as the 10th pick. Durant said that he understands why Bronny is highly rated given his recent development and accomplishments. The host then noted that Bronny is being compared to two-time NBA All-Star Jrue Holiday, which is quite incredible. KD agreed.
During the interview, Durant said, "I have seen Bronny like laying a ball up a couple of years ago and now I see him taking off everywhere. His body developed, you know. I feel like we've been watching him since he was two, three years old. So to see where he is now, I'm rooting for him and hopefully, he gets to play with Bron at some point."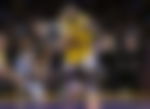 LeBron's longevity will play a huge role in deciding whether he'll play alongside his son in the NBA. The four-time NBA MVP recently broke the All-Time scoring record thanks to his longevity. James now has another record on his sight.
Durant on James' longevity
ADVERTISEMENT
Article continues below this ad
LeBron James tied the All-Time record for All-Star appearances with 19 appearances. Interestingly, Kevin Durant thinks James will not just break the record but smash it. At the beginning of the show, the host and Durant talked about his All-Star appearances and the number of All-Star games KD has missed because of injury. The host then suggested that the Phoenix Suns superstar can still break the All-Star appearances record. However, he then joked that LeBron will probably still be playing.
Durant accepted the notion with a chuckle and said, "He is gonna get 23 All-Star games." That would be one hard record for anyone to break in the future.
ADVERTISEMENT
Article continues below this ad
WATCH THIS STORY – "Anthony Davis shocking reaction when LeBron James broke the All-Time scoring record"
Even though KD was exaggerating the number, we never know with James. Over the course of his career, the Los Angeles Lakers superstar has missed the All-Star game only once; during his rookie season. He has never missed an All-Star game ever since.
Edited By: Satagni Sikder