After James Harden, Twitter Demand Another Blockbuster Trade Around Bradley Beal
Published 01/13/2021, 11:00 PM EST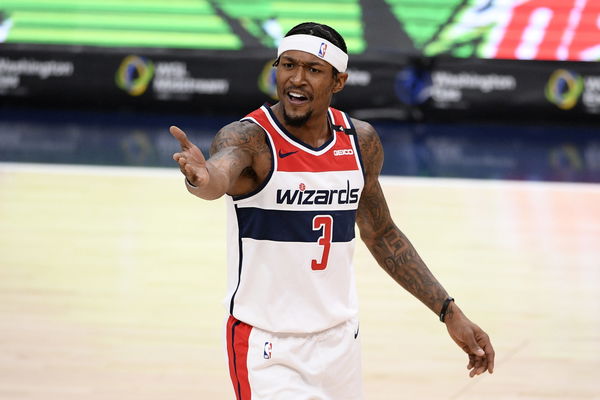 ---
---
The Houston Rockets finally relented and granted James Harden his release form the franchise. After creating chaos in the league, demanding to be traded off to the Brooklyn Nets, the Rockets drew the line after the last game. However, it looks like NBA fans won't rest until another blockbuster trade that includes Bradley Beal happens soon.
ADVERTISEMENT
Article continues below this ad
James Harden finally traded to the Nets
Despite playing a decade for Houston, Harden was getting nowhere. He was the sole star player they depended on to lead them to the playoffs and possibly a title. But for several reasons, the Rockets were getting nowhere close to dominating the competitive West.
ADVERTISEMENT
Article continues below this ad
So when the Rockets had another premature exit from the playoffs last season, Harden wanted an out. He wasted no time in showing an interest in being traded in the offseason and particularly to the Brooklyn Nets. Instead, his last season's second scoring option, Russell Westbrook, was sent off to the Washington Wizards in exchange for John Wall.
Thus began the Harden fiasco. The no show for training camp and random partying was meant to frustrate the Rockets management and force them to take a call.
When he returned to the court for the 2020-21 season, he wasn't the same Harden anymore. The last straw was his criticism of the team after their loss against the Los Angeles Lakers, and now he is part of the Brooklyn Nets.
Next up: Bradley Beal?
Now that this long-awaited matter has been settled, fans have something else in mind. It looks like they are waiting for another blockbuster trade. Not that anybody can compete with Harden joining Kyrie Irving and Kevin Durant, but is it time for Bradley Beal to also move on?
Just like James, Beal has been with the Washington Wizards for a decade. The story is pretty much the same – a single superstar trying to lead a franchise to a title and getting nowhere. In fact, Twitter has also decided where they want to see Beal. Yes, it's the Los Angeles Lakers.
ADVERTISEMENT
Article continues below this ad
I still think lakers should picked up Beal get that man out of Washington!

— Roe 🌹 (@RoeUpNext) January 13, 2021
When the Wizards brought Westbrook, it looked like the duo would do wonders with the team. However, that prediction was wrong and the Wizards are reeling at 3-8 in the Eastern Conference. With no hopes in sight, do you think Beal also needs to be traded to get the title he deserves?
ADVERTISEMENT
Article continues below this ad