After Kim Kardashian's Public Support for Ex Kanye West's New Venture, Shaquille O'Neal Also Offers Support to the Billionaire
Published 09/25/2022, 9:58 AM EDT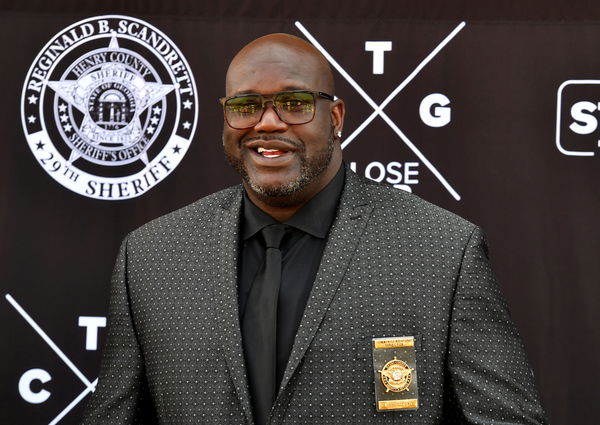 Billionaire music producer and businessman Kanye West recently dropped his newest Yeezy glasses. With the whole world talking about the glasses, NBA legend Shaquille O'Neal has also joined the bandwagon.
ADVERTISEMENT
Article continues below this ad
Talking on the newest episode of The Big Podcast with Shaq, O'Neal debuted his newly bought sunglasses. However, he didn't seem to be happy with them. Because he ordered the glasses online. And instead of Yeezy glasses, he ended up with Van Linker glasses, which he didn't like.
ADVERTISEMENT
Article continues below this ad
When asked by the co-host the cause of this initiative to buy glasses, Shaq said, "Because I'm a Kanye fan and he said he was gonna start out some of his YZY glasses to the consumer. So, I go to Amazon and I type in Yeezy, look what they sent."
After he shows his newly acquired glasses, Shaq reveals that this is not the only pair he owns. He ordered a whopping 6 pairs of glasses which did not satisfy Shaq.
The highly anticipated accessory was revealed by Kanye about a month ago. Interestingly enough, it was none other than his ex-wife and popular model Kim Kardashian who rocked the pair of sunglasses.
Shaq has talked about Kanye West multiple times in his podcast and elsewhere. During the whole Pete Davidson and Kanye West drama a few months ago, the former NBA champion gave his thoughts regarding the whole issue.
Shaquille O'Neal once bashed Kanye West amidst drama with Pete Davidson
Four-time NBA champion Shaquille O'Neal is not one to shy away from speaking on controversial topics. Fans all around the world eagerly await the former Los Angeles Lakers' icon thoughts on issues around the world.
A few months ago, the beef between Kanye West and Pete Davidson was more than evident. After falling out with Kanye, Kim Kardashian was dating Pete, which in turn caused the rift between West and Davidson.
ADVERTISEMENT
Article continues below this ad
Shaq ended up siding with Kanye in the whole debacle. In fact, he supported his efforts to get his family back and accepted his love for his family.
WATCH THIS STORY: Scottie Pippens Ex Wife, Who Cheated on Him with Millionaire Rapper Future, Adds Fuel To The Fire Between Him and Michael Jordan with Latest Double Date
ADVERTISEMENT
Article continues below this ad
What is your favorite memory of Shaquille O'Neal? Let us know in the comments down below.