After Michael Jordan Smacked Steve Kerr in the Eye, Another Teammate Despised His Arrogance: "He'd Ride You Right Out of NBA"
Published 10/07/2022, 5:53 PM EDT

Follow Us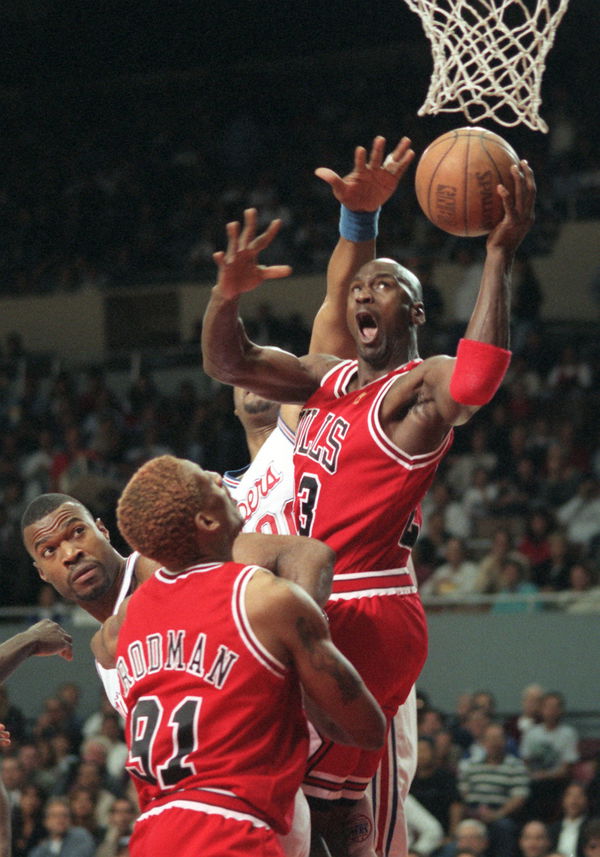 Michael Jordan was dedicated to winning more than any NBA athlete ever. His focus and determination were quite hard to be reciprocated on the court. The energy that Jordan brought onto the court motivated his teammates to do better and made the opposition shiver. Despite his brilliance on the court, the six-time NBA champ was often criticized for his over-aggressiveness on the court.
Michael's pursuit of greatness came from extreme hard work and consistency. The five-time Finals MVP was aware that he could not win the championship on his own. Jordan set a standard for the team that the rest of his teammates had to live up to.
ADVERTISEMENT
Article continues below this ad
However, not all of his teammates had the same mentality, leading to heated arguments and yelling on occasion. It was really hard for his teammates to be like Jordan, resulting in differences and conflicts.
Horant Grant talks about his problems with Michael Jordan
Jordan's former teammates talked about their struggles playing with him in the ESPNCentury episode featuring Michael Jordan in December 1999. MJ was involved in several heated incidences with his former teammates including Bill Cartwright, Horace Grant, and Steve Kerr during practice. Michael Jordan once ended up hitting the current Golden State Warriors coach and his former Bulls teammate Steve Kerr in the eye during practice.
Moreover, four-time NBA champ Horace Grant talked about his problems with Jordan. MJ told his former Bulls teammate Grant some things which he did not like and could not take. The 1994 All-Star said, "If you let him ride you, he'd ride you to the moon, he'd ride you right out of NBA and right out of your mind."
Jordan hit Steve Kerr during practice
ADVERTISEMENT
Article continues below this ad
Phil Jackson remained the head coach of the Chicago Bulls from 1989-1998, leading the franchise to six NBA championships in less than a decade. He and Michael Jordan worked together with the Bulls team to win two three-peats. MJ revealed in the episode that once Phil put him against Steve Kerr. However, Jackson gave Steve all the calls which made Jordan really angry.
The 14-time All-Star started to play very physically and Kerr reciprocated the hard approach. Jordan got so mad that he ended up whacking Steve Kerr in the eye. Following the incident, Phil sent MJ home and he later apologized to Kerr on call.
ADVERTISEMENT
Article continues below this ad
Watch This Story: Tiger Woods and Michael Jordan's First Ever Nike Contracts Make a Shocking Million Dollar Revelation in Favor of the Legendary Golfer
At the end of the day, all Jordan wanted to do was to make his teammates rise up to the occasion. His former teammate, B.J. Armstrong admitted that Jordan was always the first one to apologize and loyalty meant a great deal to him. MJ's intention was not to hurt his teammates. He did everything in his power to raise the stakes and make the Chicago Bulls capable of winning championships multiple times. His presence inspired the Bulls to win six championships between 1991-1998.