After Michael Jordan Was Accused of Threatening Retirement to Save Scottie Pippen, Bulls Owner Drops Cold Truth
Published 03/20/2022, 11:00 AM EDT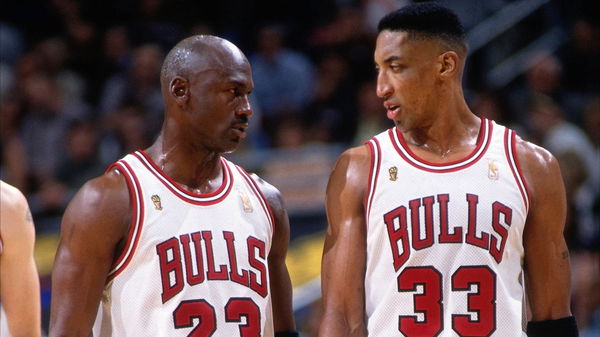 Yet another tale unfolds from the 1997-98 season Chicago Bulls. There were a lot of issues with the team going into the 1997-98 season. Bulls were crowned NBA champs and just a few days later, Jerry Krause received a trade proposal. 
The trade proposal included Scottie Pippen, who at the time had issues with his contract. With all the drama, Krause was not sure of a sixth championship. This might've led to the unsure decision of trading Pippen. Though why didn't the trade happen? Who is to blame for the trade denial? 
In 2016, Tracy McGrady revealed the happenings of the 1997 draft week. When asked what happened behind the scenes of the Draft night, McGrady said, "… Uh, Jerry Krause was actually trying to make a trade for me and Scottie Pippen. And MJ called and axed that whole deal."
ADVERTISEMENT
Article continues below this ad
This was a surprise for the fans and for the anchor, Rachel Nichols. McGrady said that everything happened in secret. As Jerry Krause called Tracy for a secret meeting on the eve of the '97 Draft night. 
"Absolutely, Jerry Krause was trying to make a trade for me, that night… and Scottie Pippen. He brought me in for a secret meeting. Yes, they did."
This trade would've landed Scottie Pippen in Boston and McGrady would've ended up a Bull.
There is some truth to this story. But, Jerry Reinsdorf had the opposite to say, when informed about the involvement of Michael Jordan.
Jerry Reinsdorf does not recall any discussion with Michael Jordan about the trade
When Reinsdorf was asked to share his thoughts on McGrady's claim, he said that Jordan was not involved in this improbable trade. 
"I understand that there is a lot of truth to this story, but one part that's not true is that Michael Jordan in any way communicated with the Chicago Bulls, his displeasure over the trade."
Reinsdorf states that he vetoed the trade because of the fans, who wanted a sixth championship. He even contacted Jordan regarding McGrady's comments and if Jordan had anything to do with the trade. To which Michael replied, "BS".
ADVERTISEMENT
Article continues below this ad
"I thought long and hard about it. My decision came down to this, 'What would our fans want us to do?' And I concluded that our fans would want us to win a sixth championship, even if it meant that we weren't gonna be that good afterwards. And that's why I vetoed the trade."
WATCH THIS STORY: $1 Million for 3 GOATS? Michael Jordan, Kobe Bryant and LeBron James at the Center of Major Deal
ADVERTISEMENT
Article continues below this ad
This trade never happened. The Bulls won their sixth championship and second three-peat. The Raptors drafted McGrady. And, Scottie Pippen, after missing 36 games of the 1997-98 regular season, came back to get the job done. 
Though it is to wonder what could've happened if McGrady was to play beside Michael Jordan.
Edited By: Arunaditya Aima