After Overtaking Billionaire Indian Businessman to Again Become World's 2nd Richest Person, Jeff Bezos Gets Massive NBA Offer From Shaquille O'Neal
Published 10/03/2022, 12:30 PM EDT

Follow Us Jeff Bezos finally reclaimed his spot as the second richest person in the world, after overtaking Indian Businessman Gautam Adani. And he seems to have got another massive offer from NBA Legend Shaquille O'Neal to buy an NBA team.
It's known for some time now that the Phoenix Suns are up for sale. The controversy with their owner, Robert Sarver, has made him put the Suns and the WNBA team, Phoenix Mercury, up for sale. Sarver was suspended by the league for a year and fined $10 Million after an allegation was made against him last season. And after a thorough investigation, the NBA found him guilty and handed him a suspension and fine.
ADVERTISEMENT
Article continues below this ad
And after several sponsors started pulling out, Sarver made the decision to sell his teams. He has reportedly put them up for sale and is considering offers. And rumours say that Bezos is reportedly interested in buying the team.
Shaquille O'Neal is willing to partner with Jeff Bezos to buy the Suns
Bezos has emerged as the frontrunner to buy the Suns. And he clearly has the money for it. Others are also in the fray, but Bezos has emerged as the favourite. Shaq was also interested in putting in a bid for the Suns, but when he heard Bezos was also in the fray, he backed out. He said, " I was interested but when Big Man JB said he was interested, nobody can compete with Big Man JB. Once Jeff Bezos put his name in the hat, all you others just close your chequebook and go home."
ADVERTISEMENT
Article continues below this ad
"Nobody on this planet can compete with Big Man JB, and I'm not going to go up against Big Man JB. Because you know what? I just ordered 50 things off Amazon today. Big Man JB got that money coming in!"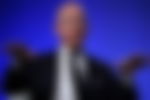 But Shaq put up an interesting offer to Bezos. He said, " If he wants me on board, I would gladly like to talk to him."
ADVERTISEMENT
Article continues below this ad
WATCH THIS STORY: Biggest and Mightiest houses owned by NBA legend Shaquille O'Neal
Shaq said that he is not in the fray to compete against Bezos and he is actually scared of him. Bezos is the second richest person on the planet and despite how wealthy Shaq is, he just cannot compete with the founder of Amazon. But Shaq is an NBA legend and he will be able to help him navigate through the difficulties.
Edited By: Ajinkya Aswale