After Regularly Dealing With Criticism About His Fitness, NBA Trainer Explains How James Harden Goes the Extra Mile to Stay in Shape
Published 08/19/2021, 3:00 AM EDT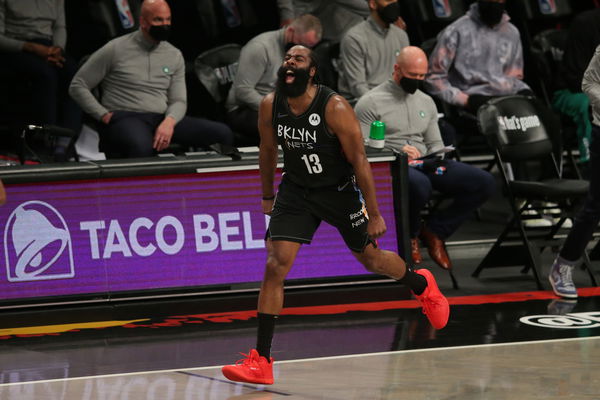 ---
---
The Brooklyn Nets coming into the 2020-21 season were one of the most dangerous teams. With the duo of Kevin Durant and Kyrie Irving, the Nets looked set to dominate. But the team added yet another superstar before the deadline as they brought in James Harden.
ADVERTISEMENT
Article continues below this ad
Harden immediately showed his class with the Nets. Taking up the role of the primary point guard of the team, 'the Beard' flourished with the Nets. If not for injuries in the playoffs to Harden and Irving, the Nets could have been crowned as the NBA champions last season.
ADVERTISEMENT
Article continues below this ad
NBA Trainer squashes rumors of James Harden being lackadaisical in off-season
While Harden flourished with the Nets, before his move to Brooklyn, 'the Beard' was criticized for putting on weight in the off-season. Showing up in the Rockets' training camp, Harden had clearly beefed up and was heavily criticized for his apparent lack of work ethic.
But all of it have been put to rest by NBA trainer Chris Brickley. Brickley in a recent interview with Hoopshype explained what he expects from NBA players while they are training. "Are they pushing themselves during the workout?"
ADVERTISEMENT
Article continues below this ad
The veteran trainer then explained how James Harden puts in the work during the off-season. "James Harden has whatever reputation he has. But the reality is that during the summer, we work out. When it's done, everyone is sitting down. This guy is running suicides. No one talks about that."
Harden and the Nets enter the 2021-22 season under tremendous pressure to win a championship. While the big three only played a handful of games last season with each other, they were very impressive when Harden, KD and Irving were present on the floor.
ADVERTISEMENT
Article continues below this ad
Entering the season, the Nets will hope that their trio returns in full health. If the trio of Durant, Harden and Irving are back in full strength, the Nets might be one of the most unstoppable teams in the league.
But their path to a NBA championship won't be easy by any means. With teams like the Lakers and the Bucks forming their own big threes, the competition is in an all-time high for Brooklyn. Can Harden finally win a NBA championship next season?