After Stern Giannis Antetokounmpo Refused to 'Joke Around', Mother of His Kids Shares Strong Message: "Okay to Not Be Okay!"
Published 03/09/2023, 2:45 PM EST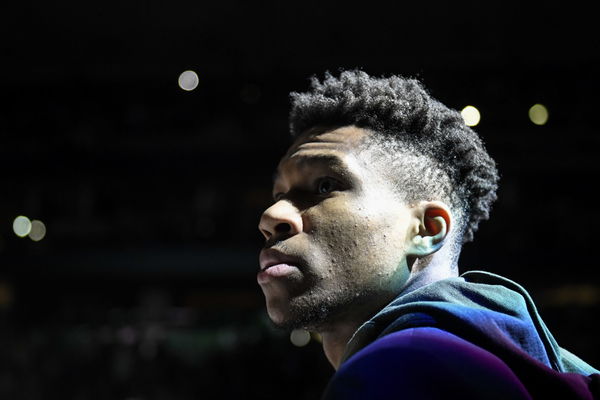 Giannis Antetokounmpo seems like one of the most fun guys to hang around in the NBA. The two-time MVP was jumping all around during the All-Star Weekend in February as everyone was getting affected by his infectious laughter. The Milwaukee Bucks superstar is a jolly personality. However, it seems like it is a result of battling rather bleak days in his past.
The Antetokounmpo family has bravely faced many hardships in life, but the oldest son of the family doesn't disregard the toll it can cause on someone. Antetokounmpo's girlfriend, Mariah Riddlesprigger, recently appreciated her better half, as 'The Greek Freak' took part in a very noble cause to help out his town. The Bucks superstar's recent effort is a hand stretched to anyone calling out for help.
Giannis Antetokounmpo joins Antidote to provide mental health facilities in his town
ADVERTISEMENT
Article continues below this ad
In her recent Instagram story, Mariah Riddlesprigger shared her boyfriend's amazing effort of providing free mental healthcare services to people in Milwaukee. It would not only help the people in need, but would also help in spreading awareness. "It's Okay to not be okay" read Riddlesprigger's story; encapsulating the roots of dealing with mental health.
In a short reel, Antetokounmpo described why he has been involved in the effort with Antidote Health.
"Hello friends, you know I like to joke around, but mental health is a serious topic. Everyone, including professional athletes like me, can be impacted and sometimes finding help is not easy. I've partnered with Antidote health to provide free mental health services for people in my hometown, Milwaukee," said Antetokounmpo.
 

View this post on Instagram

 
'The Greek Freak' collaborated with Antidote Health as its brand ambassador back in August 2022. Understandably, since then Antetokounmpo has put his best foot forward in spreading the message.
Additionally, Bucks no. 34 has also invested in the company as he looks forward to reaching more communities where it could benefit from financial help. The basketball superstar has faced his fair share of hardships and this might be his way of preventing others from it.
Antetokounmpo has similarly invested in many companies and franchises; many of which aim to help people in need. Additionally, his business acumen has led him to take part in some exceptional deals that might be very beneficial in the near future.
Giannis's exceptional deals off the court
ADVERTISEMENT
Article continues below this ad
Along with having his own Greek Freak brand, the two-time MVP has branched out into many sectors of the industry. He is also part of two sports teams in the country, namely, Milwaukee Brewers in the MLB and Nashville FC in the MLS.
Watch This Story: Luka Doncic Giannis Antetokounmpo and 4 other NBA stars have combined to make NBA history, here's how
Additionally, the Greek freak has recently gotten involved in the ETF business. He also helped launch the Calamos Antetokounmpo Global Sustainable Equities ETF (SROI).
ADVERTISEMENT
Article continues below this ad
What do you think of Giannis's business deals? Please let us know in the comments below.