"Ain't Shaq a Pain?": WNBA Legend Strikes a Chord Leading to Charles Barkley's Hilarious Reason of Tolerating Shaquille O'Neal
Published 01/16/2023, 2:10 PM EST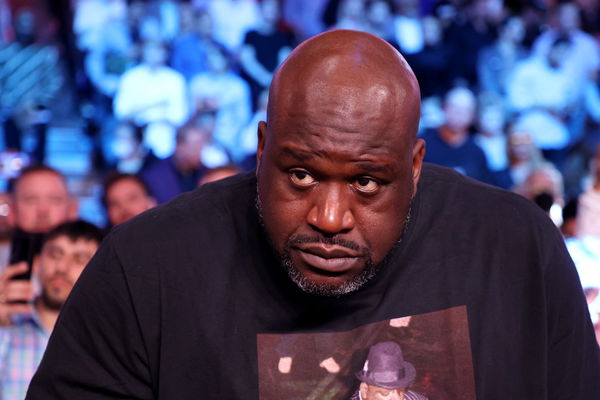 The Los Angeles Lakers legend Shaquille O'Neal is arguably one of the most dominant NBA players to ever play in NBA history. Shaq's name often pops up in the list of all-time greats too. The big man has continued his presence in the NBA world even after his retirement through his game analysis and podcasts. Most Notably, the friendly banter between Shaq and Charles Barkley during the NBA on TNT broadcast is a fan favorite. Just like Shaq's opposing teams in the NBA, his co-panellists on the show find it hard to put up with the Big Diesel. Correspondingly, in a recent podcast, a WNBA legend aligned with Barkley's opinion on Shaq.
Recently Barkley and Shaq signed a massive deal with the broadcasting company for their continued appearance on the show. Apart from game analysis, the duo has their own weekly podcasts featuring distinctive guests every week, In the recent episode of Barkley's podcast, WNBA legend Candace Parker agreed with Chuck over a hilarious reason to tolerate Dr. Shaq.
ADVERTISEMENT
Article continues below this ad
Charles Barkley reveals hilarious reason to tolerate Shaquille O'Neal
In the recent episode of The Steam Room podcast, WNBA star Candace Parker joined Ernie Johnson and Barkley for a candid conversation. During the conversation, Johnson asked Parker about her appearance on the Tuesday's Live show on NBA on TNT. Parker featured on the Tuesday show alongside Shaq and Jamal Crawford, a former NBA star. She responded by appreciating Crawford's efforts on the show and then proceeding to grill the Big Diesel. She said, "We take care of Shaq on Tuesdays, It's not always easy, I don't know, How y'all do it."
Read More – "They Got a Contract Extension Before Draymond": Massive Update Regarding Shaquille O'Neal, Charles Barkley, and the Rest of the 'Inside the NBA' Crew Leaves Fans in a Frenzy
Chuck quickly interrupted to answer the question. He said, "The reason I hang out with Shaq is like they're like, man, ain't Shaq pain? I am like, yeah but they pay me. I wouldn't do it for free." Following Chuck, Johnson continued, "I say the exact same thing." Despite their on-camera beef, Shaq and Chuck have never let it affect their friendship off the screen. The duo can claim to do it for money in public, but fans know that they enjoy each other's company anf friendship.
ADVERTISEMENT
Article continues below this ad
Shaq hugs it out on camera
During one of the episodes of Inside the NBA recently, Barkley made an emotional statement about his friendship with Shaq. Following the statement, Shaq went out of character, as he stood up and walked straight up to Barkley to give him a warm hug and a kiss on his forehead. Barkley in his emotional statement said Shaq has had an amazing life and he further added, "I'm glad to share it with you." Following the incident, surprised Ernie Johnson said, "I thought I'd never see it."
Watch This Story – 5 Times Charles Barkley And Shaquille O'Neal Had Heated Fights On Inside The NBA
ADVERTISEMENT
Article continues below this ad
What do you make of Charles Barkley's reason to tolerate Shaquille O'Neal on NBA on TNT? Let us know in the comments.
Edited By: Satagni Sikder