WATCH: Alex Caruso Channels Lakers' Legend Kareem Abdul-Jabbar with Incredible Skyhook Shot
Published 12/28/2020, 12:52 AM EST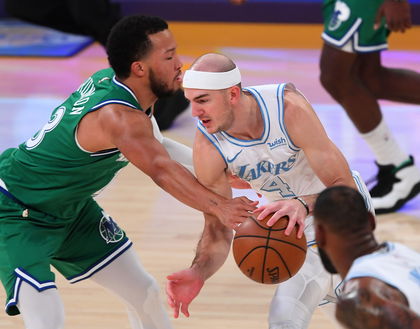 ---
---
Alex Caruso is one of the Los Angeles Lakers' most adored players. The former G-League player was signed to a full-time Lakers contract last season, and his defensive performances earned him great adulation from Laker Nation. Caruso instantly became a fan favorite, and fans cannot get enough of the young defensive point-guard.
ADVERTISEMENT
Article continues below this ad
When you have such immense support from a fan base, you can afford to take risks and try new things. And that is exactly what Caruso did in the Lakers' game against the Minnesota Timberwolves. During the first half of the game, Caruso drove to the basket and converted an incredibly rare skyhook shot.
ADVERTISEMENT
Article continues below this ad
The skyhook is an incredibly tough shot to make and is synonymous with Los Angeles Lakers legend, Kareem Abdul-Jabbar. Kareem was one of the greatest players to ever play in the NBA and won four NBA championships with the Los Angeles Lakers. For many fans, Kareem Abdul-Jabbar is on the Mount Rushmore of not only the Los Angeles Lakers but also the NBA.
Alex Caruso imitates Kareem Abdul-Jabbar
Kareem Abdul-Jabbar established his dominance in NBA through some astonishing numbers and multiple breathtaking performances. On his day, no one could come close to the KAJ. However, out of all his signature moves, none drew more excitement and adoration from fans than his amazing skyhook shot.
AC, for a brief moment during the game, turned himself into Caruso Abdul-Jabbar with a skyhook that looked like it was from Kareem himself. Perhaps, Abdul-Jabbar will see the skyhook and pass the shot down to him. That is an extremely unlikely occurrence, but Caruso's shot was still impressive.
ADVERTISEMENT
Article continues below this ad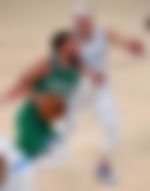 What made the skyhook impossible to stop for Abdul-Jabbar was his incredible size. Jabbar was incredibly tall at 7'2. Alex Caruso, on the other hand, clocks in at a mere 6'5, which is not a great height for an NBA player. Hence, the skyhook shot coming from him was even more impressive.
ADVERTISEMENT
Article continues below this ad
We might see Caruso use the skyhook more often in the season. While it wasn't a shot we have seen before from him, Caruso made it look like he had made the shot several times before.