Allen Iverson Confesses His Love For Michael Jordan and Credits His Success To Him
Published 08/27/2021, 8:41 AM EDT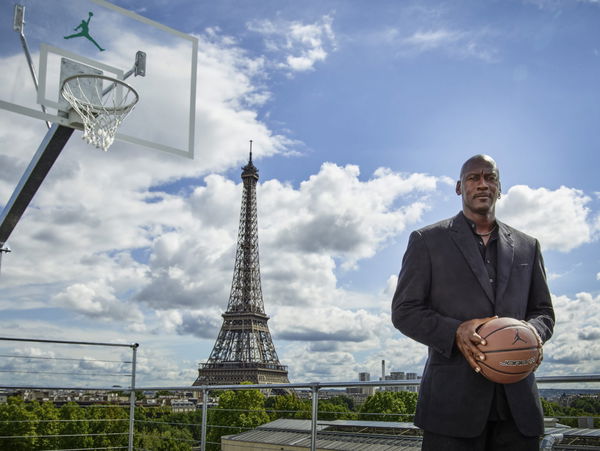 ---
---
After spending 14 years of his life in the NBA, Allen Iverson had no trouble reaching stardom. Despite all the trash-talk around his height, he proved to be an elite-scoring talent and a legend for the Philadelphia 76ers. But it all fell into place when Iverson pulled off that wild crossover against Michael Jordan. That particular moment became iconic in NBA's history and no matter what, the two have shown immense respect for one another. Iverson has always picked Michael Jordan over others and never leaves an opportunity to admire him.
ADVERTISEMENT
Article continues below this ad
Allen Iverson declares his admiration for Michael Jordan
ADVERTISEMENT
Article continues below this ad
One would think that after the way Iverson humiliated Jordan on March 12, 1997, with that crossover, there would be some kind of beef. Of course, that is far from the truth. Iverson always openly expressed that he idolized Michael. Even in his most recent interview, he explained how he learned his famous crossover, and how he always imagined doing it in front of the best player in the league, which he did.
There has been plenty of talk about the discrepancies in eras. Some say Jordan wouldn't be as great had he been playing in the league right now, some say he would still wreak havoc. On Club Shay Shay, Iverson clarified he agrees with the latter opinion. When Sharpe asked how much could Michael average in today's NBA, AI blatantly said, "40, easy!"
To this Shannon cross-questioned and said Harden once averaged 36, and MJ can do 40? To this Iverson responded, "When I talk about him, it's different man. And a lot of times it's bias because I love him so much. If it wasn't for him, I wouldn't have division. I wouldn't be Allen Iverson, the basketball player, today, if it wasn't for him. Plus, he was the best to me."
WATCH THIS STORY: Ranking Top 5 NBA Draft Classes of All Time Featuring Michael Jordan's 1984 Draft Class
ADVERTISEMENT
Article continues below this ad
Will always remain the GOAT Like in every Jordan conversation, the GOAT topic comes up. In this too, Iverson himself said that he would never add LeBron James in the GOAT conversation because, for him, MJ was it.
ADVERTISEMENT
Article continues below this ad
Well, Iverson has changed his opinion on this topic a couple of times. But that's for another day. What we do know is, despite everything, his admiration for Jordan never withered away, nor will it, ever.
READ MORE: