Allen Iverson Has Hilarious Response to Why He Was Missing From the 1996 Draft Class Photograph
Published 04/12/2021, 11:30 AM EDT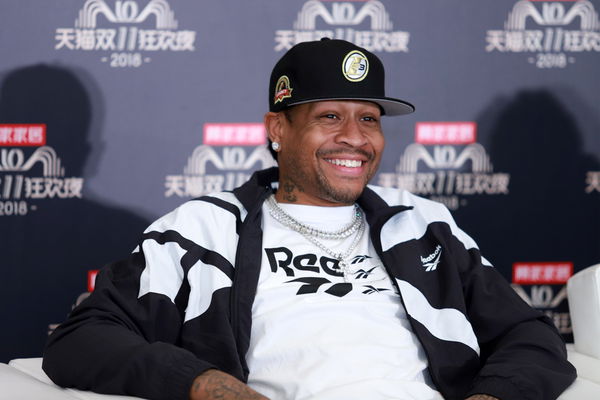 If anyone had to look back and pick the most talented Draft class in NBA history, it would have to be the 1996 class. Filled with talent to the brim, it had players that became future MVPs, All-Stars, Champions, and even Hall of Famers. Only a couple of years prior to them coming together, the SLAM magazine had just been founded and when it was time for this draft class to be on the cover photo, there was one Hall of Famer, Allen Iverson, who was missing. Now, fans finally know why.
ADVERTISEMENT
Article continues below this ad
Allen Iverson missed the 1996 Draft photograph
It had just been two years that SLAM had come out and the magazine had already established itself as one best basketball magazines out there. It blended hoops and hip-hop seamlessly, although the concept was not understood by most in the beginning. But the two themes were bridged brilliantly.
ADVERTISEMENT
Article continues below this ad
Then came 1996, the year when hip-hop came out with some extraordinary and ground-breaking albums. It was also the year that saw the greatest NBA Draft emerged. Their aura resonated with the brand and thus, Slam 15 decided to do a cover photo that had all these superstars flaunting their confidence and charisma.
This included Kobe Bryant, Steve Nash, Ray Allen, Ben Wallace, Peja Stojakovic, and many others. However, the 76ers' legend, Allen Iverson, was nowhere to be found. Everyone has often wondered why he wasn't part of that iconic photograph, and now, Iverson has opened the lid on the secret.
"I wanted to always clear that up, but I never had the platform to do that," started off Iverson. Then he hilariously said, "I don't know. I don't know where I was or how I missed it. I don't remember. Being that young, and not as mature as I am now or should have been, I might have blew it off."
Where is the 76ers' legend now?
ADVERTISEMENT
Article continues below this ad
When Iverson retired, there was news surrounding his financial irresponsibility and how he was in debt and was broke. Controversies around the legend never seemed to stop, but that is probably why fans and young generation players like him; he is imperfect and real.
He is often seen on various podcasts or discussions and seems like he is doing well for himself. Though he wasn't the biggest and scariest guy on the court, his Hall of Fame career speaks for itself.
Looks like AI didn't really need the 1996 Draft photo to make a name for himself. His accolades and talent were more than enough to set him apart as a legend.
ADVERTISEMENT
Article continues below this ad
Read also- Allen Iverson Declares His and Kobe Bryant's 96 Draft Class the Best Over Michael Jordan or LeBron James' Class