Allen Iverson Sheds Light on The Backstory of His Famous Crossover Against Michael Jordan
Published 08/26/2021, 9:30 AM EDT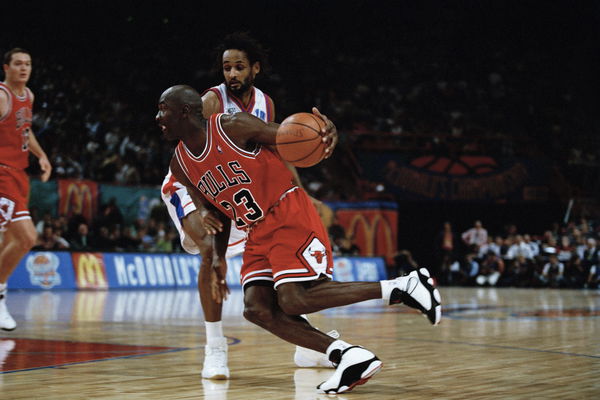 ---
---
On March 12, 1997, Allen Iverson gave a glimpse of what would eventually be his Rookie of the Year season. Over the decades, several athletes have tried to pull of crossovers and done it successfully. However, none of them compare to the way Allen Iverson used to pull it off. And then, did it against the greatest of all time. There isn't anybody who isn't privy to his famous move against Michael Jordan on this day. But not everyone knows about where he learned it from, so let's hear it from the man himself.
ADVERTISEMENT
Article continues below this ad
How Allen Iverson learned his famous crossover
ADVERTISEMENT
Article continues below this ad
Before this iconic moment, the 21-year-old Allen Iverson was having a stellar first season in the NBA after being drafted no. 1 overall by the Philadelphia 76ers. In fact, AI was just a month away from being the first rookie to have five consecutive games with 40+ points.
The Chicago Bulls, on the other hand, were amidst a 69-win record and en route to their fifth NBA championship. That's when Michael Jordan met Iverson, and never could he have imagined what was waiting for him. A crossover, that went down in NBA history's biggest moments, and now Allen has given detailed insight on it.
In an interview with Shannon Sharpe's show 'Club Shay Shay', Iverson confessed, "The guy that taught me the crossover was a walk-on at Georgetown. He never played, never got any game. But he's the one who taught me the move because he used to hit me with it at practice all the time. And my ego, I put it to the side and said, 'Look, man. You got to teach me that."
WATCH THIS STORY: Michael Jordan, Kevin Durant & Other NBA Players That Forced The League to Change Rules
A premeditated move on Michael Jordan
ADVERTISEMENT
Article continues below this ad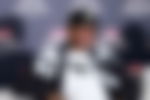 Once Allen mastered it, he used to tell his family, friends, and teammates that when he gets the opportunity, he would do it against the best player. "I'll never forget the moment," Iverson said. "I'll always hear the voice in my head when Phil Jackson said, 'Michael, on the switch.' And he stepped out and I was like 'Okay, here goes the moment'.
Iverson pushed himself to do it and did not want to back out on his commitment, so he went for it. "So, when I tried the move, and he bit on the little one, that's when I said, 'Oh you're in trouble!'
ADVERTISEMENT
Article continues below this ad
Of course, Jordan and the Bulls ended up defeating the Sixers by a small margin of four points. However, it was definitely Iverson's night because he finished with 37 points, 4 assists, and 2 rebounds. Whereas, MJ only had 23 points, 5 rebounds, and 3 assists. Yes, he faced defeat, but he was taking a much bigger victory than he could have imagined back then.