"Almost Made Me Cry": 6 Months After 2nd Marriage, Shaquille O'Neal's Ex-Wife Shaunie Is Having the Time of Her Life
Published 01/24/2023, 12:30 PM EST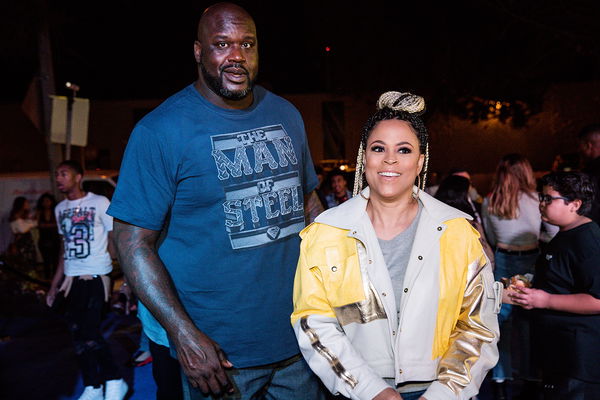 Basketball Wives star Shaunie Henderson made a massive decision to end her seven-year marriage with Los Angeles Lakers legend Shaquille O'Neal in 2009. The former couple have remained friends after their divorce. They have also maintained a healthy co-parenting relationship together for the sake of their children. However, Shaunie Henderson finally made a huge decision to move on, over a decade after her divorce from Shaq. She got married to her new husband Pastor Keion Henderson in May 2022. Six months after her second marriage, Shaquille O'Neal's ex-wife Shaunie seems to be having the time of her life, as evident from the tales of her daily life.
Shaunie Henderson recently took a small trip to Austin with her husband Pastor Keion Henderson to support her and Shaquille O'Neal's daughter, Me'arah O'Neal for her basketball game. The reality TV star recently shared a glimpse of her trip in an Instagram reel.
Shaunie shares glimpse into her new life
ADVERTISEMENT
Article continues below this ad
The caption of Shaunie's recent Instagram post read, "Quick trip… @mearahoneal_ had a couple of games this weekend in Austin. So we surprised @jacobydeuce @raquel_monique_ and @jesse__childs Highlighted with me seeing @msmonique3 who almost made me cry but we ended up laughing and I don't even remember what was funny. #bestdayever #mygodbabyisthecutest"
 

View this post on Instagram

 
The 48-year-old star also shared some snippets from her weekend trip to Austin in her recent post. In the video, Shaunie Henderson could be seen wearing a headphone with a mic. While pretending to be on call with someone, Henderson says, "How was my weekend?"
The scene then cuts to Mrs. Henderson having a grand time with her family and friends. There were clips of Shaunie and Keion Henderson visiting the arena in Austin to witness Me'arah O'Neal play. Moreover, Shaunie Henderson and her daughter Me'arah could also be seen playing with her friend's baby. In addition, there was also footage of Shaunie and Keion Henderson having a good time with their friends.
ADVERTISEMENT
Article continues below this ad
Towards the end, Shaunie Henderson states, "It was pretty chill. I didn't do too much. Yeah just hung out with my friends." Shaunie's laid-back and chilled approach in the reel drew some heartwarming responses from fans, who were left in awe of a glimpse into Henderson's newly married life.
Shaunie's marriage and new life
Back in May 2022, Shaunie Henderson got married to Keion Henderson at the Aurora Anguilla Resort and Golf Club. Moreover, their lavish wedding day was also televised as a VH1 special named, 'Shaunie & Keion's Destination "I do,' a few months ago.
ADVERTISEMENT
Article continues below this ad
Watch the Story – With 6-ft daughters and millionaire sons divorced Shaquille O'Neal celebrates a wholesome Christmas 2022
While promoting her upcoming project, Shaunie Henderson talked about her new life with Pastor Keion Henderson. She also addressed her transformation from being a Basketball Wives star to becoming a pastor's first lady. Shaunie also reckoned that she was enjoying the new challenges in her life and was fuelled by her husband's support.
Edited By: Satagni Sikder