American Businessman Publicly Announces His Hate for Michael Jordan in a Cryptic Post
Published 01/11/2021, 10:10 PM EST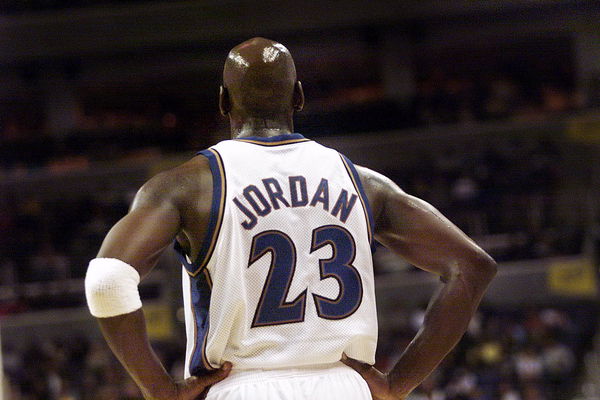 ---
---
Michael Jordan is an entity on whom everyone has an opinion. Many folks have made a career out of discussing, mocking, and using Michael's name in their write-ups or podcasts.
ADVERTISEMENT
Article continues below this ad
With immense fame comes immense scrutiny and criticism, and this is something MJ isn't a stranger to. Outspoken American businessman and public figure, Gary Vaynerchuk, has been one of Jordan's vocal critics. 
Gary Vaynerchuk seems to have something against Michael Jordan
ADVERTISEMENT
Article continues below this ad
Gary has followers in the millions. He has run a popular show called #AskGaryVee where he would talk about leadership, social media, and self-awareness. He also runs multiple family businesses, is an early investor in some of the greatest multinationals, and is quite successful and known in the social domain.
Very recently, he ran a post called Underrated vs Overrated, where he discussed Michael among other influential personalities. At the point in the video where Gary was asked whether Michael was overrated or underrated, there were overlays of old audios where Gary had said, "I fu–in hate Michael Jordan. I hate Michael Jordan more than breathing." However, in response to the interviewer's question, Gary surprisingly said, "I think he is properly rated."
Gary must've been a teenager or in his early 20s when Michael was in his prime. In the past, he even ran a Twitter poll comparing MJ with legendary ice hockey player Wayne Gretzky, although the 6-time NBA Champion won that poll by a huge margin.
Is Michael Jordan 150 times more popular/culturally relevant than Wayne Gretzky ????

— Gary Vaynerchuk (@garyvee) December 20, 2020
When Gary demeaned Air Jordans and The Last Dance
During the lockdown period, Gary was a part of many podcasts. In one such podcast, he discarded the much-loved MJ documentary, The Last Dance. He talked about how he didn't want to watch the documentary and said: 
"I just don't want to watch it, I genuinely don't. This doesn't mean that I am unaware that he's the greatest basketball player of all time. There's just no enjoyment for me, no curiosity, I lived it, I'm sure there's clever behind-the-scenes conversations, but it's just not interesting to me for them to repackage and post-produce a documentary that is going to make all of them look like heroes, individuals that I genuinely don't like."
ADVERTISEMENT
Article continues below this ad
This is all rather ironic because Gary Vee is a huge sports fan and started his teenage business by selling baseball cards. He has a thing for sports cards and owns 1986 Michael Jordan Fleer Stickers, 2003 LeBron James Topps Chrome, Luka Doncic 2018 Panini Prizm, and 2013 Giannis Antetokounmpo card. 
On another occasion, Gary even explained why he'd never want to do business with the likes of Jordan or NFL's Tom Brady. He also said, "I never in my life wore a pair of Jordans… I walked in (my house) and saw a Jordan box, lost my mind… [I] wrapped it, went outside my door to shoot for garbage, and throw it out cause I hate Michael Jordan so much… If you're 40 and older and you're a diehard Knick fan and you're rocking Jordans, I'm confused."
ADVERTISEMENT
Article continues below this ad
This is something that MJ might not even be aware of, but he has an outgoing critic in this entrepreneur. Will Gary's view of Jordan ever change? Maybe not, but how correct is Gary in your opinion? Please let us know in the comments.
Trending Stories