Andre Iguodala Reasons Out Why LeBron James and Rajon Rondo Are The League's OGs
Published 02/26/2021, 6:30 AM EST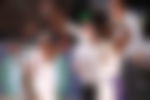 ---
---
There aren't many players in the league right now who are still going strong after 15 seasons or more. There is LeBron James, Udonis Haslem, JJ Redick; but another name that springs to mind is Andre Iguodala. The Philadelphia 76ers acquired Iguodala as the ninth overall pick in the 2004 NBA Draft. Since then he has played alongside many legends like Chris Webber and Allen Iverson. But when asked about the current OGs, Andre believed that that honor rested with LeBron James and Rajon Rondo.
ADVERTISEMENT
Article continues below this ad
Are LeBron James and Rondo the OGs?
The 37-year-old has the experience to bring success to any team that he plays for. However, there are some other vets according to Andre who have the same effect. In an interview, Andre Iguodala first shed light on the importance of veterans in the league. He said, "I was very fortunate to have some really good veterans my first couple of years in the league, setting me straight, showing me the rules."
ADVERTISEMENT
Article continues below this ad
Andre explained that a good veteran is not necessarily the one who stays in the league the longest, but someone who knows how to best handle their business in the right manner. This is what he has always wanted to emulate and pass on to the younger generation.
When asked who other than him would count as the NBA's OG's right now, he said, "You know a lot of guys who came in and are still around. Obviously, LeBron is at a great high level." After that, he also picked Carmelo Anthony and Rajon Rondo.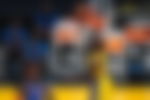 Why does Rajon Rondo make the OG cut?
While Bron being an OG is very obvious, Andre explained his stance in picking Rondo. He said, "Rajon Rondo is another one of those guys. Wherever he goes, is really contagious, and how he connects with the younger players in the teams."
ADVERTISEMENT
Article continues below this ad
After naming Dwight Howard and Paul Millsap as well, Andre stated, "You got a handful of guys who have been doing it for a while, making the most of their careers and giving back as well."
The Los Angeles Lakers won the championship last season against Iguodala's Miami Heat. And nobody would disagree that Rajon Rondo was the trump card that turned things around for the Lakers in the playoffs, and so Iguodala couldn't be more right; it takes a real OG to know another.
ADVERTISEMENT
Article continues below this ad
Read also- Lakers' LeBron James takes to Instagram to Hype up Son Bronny James