Anthony Edwards' Poster Dunk is Having People Recall Rookie Dunks By Michael Jordan, Kobe Bryant and Others
Published 02/23/2021, 5:00 AM EST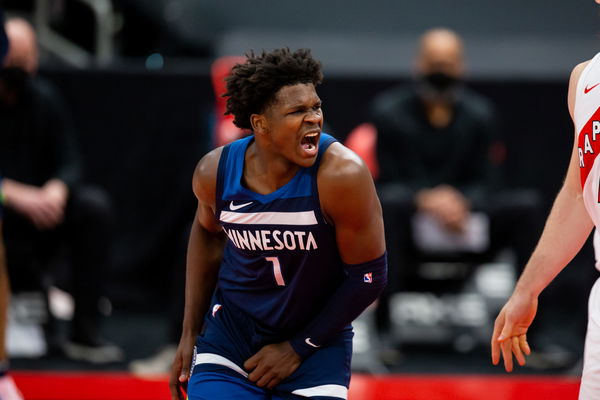 ---
---
The Minnesota Timberwolves have reached their point of no return. With a 7-24 record in the Western Conference, they are barely alive but are still making headlines. How is that? Well, they have rookie Anthony Edwards' who is not only taking the league by storm with his performances, but his hammer against the Toronto Raptors is all anybody can talk about. In fact, the young star is now being compared to Michael Jordan, Kobe Bryant, and other legends in their rookie years.
ADVERTISEMENT
Article continues below this ad
The poster dunk of the year
Even though the Minnesota Timberwolves lost to the Toronto Raptors 81-86, social media blew up after seeing Anthony Edwards drop an abusive dunk on Raptors' forward, Yuta Watanabe. He is certainly living up to the expectations of being the No. 1 pick in the 2020 NBA Draft.
ADVERTISEMENT
Article continues below this ad
He did not have a great shooting night, but who cares if you can dunk like that. On ESPN, Kendrick Perkins stated, "This is the best dunk that I've seen in the last five years. Or maybe 10 years since Blake Griffin dunked on me. This was tremendous… amazing!"
That sparked Rachel Nichols to play some old famous rookie dunks by Kobe Bryant, Michael Jordan, and even Vince Carter. Even the time Shaquille O'Neal's dunk broke the tore down the basket.
From whichever angle you watch that dunk, it is a masterpiece for sure. And to be included as one of the best rookie dunks among legends like MJ and Kobe is an honor in itself.
Anthony Edwards still not pleased
ADVERTISEMENT
Article continues below this ad
Despite this incredible dunk, Edward's level-headedness came out in the post-game interview when he dismissed this dunk because they didn't win the game. He said, "It was all right, but I didn't make any shots."
"I don't care about the dunk. I was hoping we were going to win. As a team, we didn't make any shots. The dunk was great, but we didn't make shots. We have to figure something out."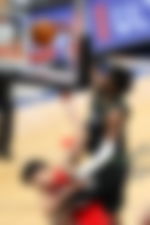 Anthony's views were similar to some NBA analysts who wanted to focus more on his slow shooting night than the slam dunk. The 19-year-old has impressed everyone with his athleticism and defense capabilities. So, how's one rocky night going to tarnish what he has accomplished in the league already?
ADVERTISEMENT
Article continues below this ad
Read also – LeBron James Waxes Lyrical of Fellow Klutch Sports Member Anthony Edwards After Impressive Showing